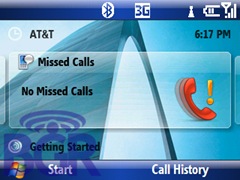 Boy Genius Report have recently reported that the new Motorola Q9 has the latest upgrade to Windows Mobile 6. It is a .1 release so not exactly ground braking but it does have some neat new features.
Unfortunately it will not make much difference for myself as I am fed up with the WM5 and WM6 being glitchy. It is so frustrating having to do hardware resets on a phone then reinstalling absolutely everything. It is a shame because I do would love my TyTn if it did not play up so much. Hopefully Microsoft will resolve the issues in the future.
Anyway the new things found are all based on the standard version (Professional is the touch screen version).
Copy / Paste.
Domain Enroll in Settings (Enrolling in a domain will connect your device with company resources.)
New home screen (pan left and right to check out missed calls, notifications like email, sms, etc.)
Change Master Security Code
Added text input settings
Recent Programs when pressing Start menu
Threaded SMS.
When you compose an email, or SMS, and start typing the name of the contact in the "To:" field, the contact names finally pop up like Windows Mobile Professional!
Internet Explorer now lets you define a homepage, and also zoom in and out using a nice and clean interface