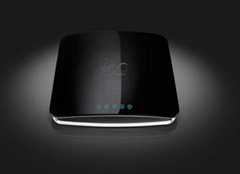 There has been a lot of discussion and rumours of Virgin launching its 50Mbps ADSL product recently.
Virgin Media has started a viral campaign of the new product showing off the new cable modem/router they will be supplying.
While this may indicate the new service will be arriving any time soon Think Broadband previously announced that the roll out will take to April 2009 to complete and around 40% of us will have a choice of a 50Meg product by then.
Price wise it is said to cost £52 but this is unconfirmed and you will also have to sign up to a 12 month contract.
It will be interesting to see what the upload speeds are like. I find this speed becoming more and more important recently so a 50 meg down and 0.5 meg up would be a bit pointless.
It is also worth noting that cable does not suffer the same problems as ADSL when you move away from the exchange, however user congestion does play a part in the speeds.