Verizon launched a new mobile phone which will most likely be Motorola's new 'flagship' from now on. The company will also gain from Droid 3's refreshing presence, and surely give AT&T a not so friendly pat on the back when it comes to sales performance. The Droid 3 didn't quite manage to get lots of remarks at its release when compared to the ones received by its previous siblings. Although this might seem to have a detrimental effect, and judging by what Ramon Llamas from IDC said, ("where is the marketing support…?"), the new smartphone doesn't come with serious hardware improvements, but rather a collection of features from previous Motorola Models. That will surely get the attention of smartphone fans, and, why not, tech fans who want to purchase a new and very capable piece of gadgetry.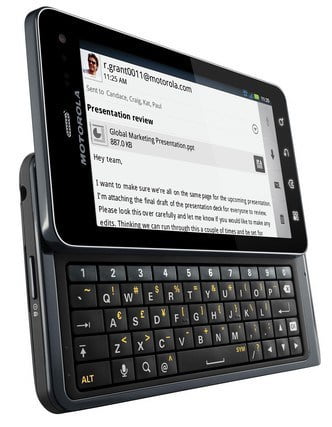 What do the specs say?
The specs shout 'awesome'. It's the only word that currently fits the description for the Droid 3. Not many mobile phones have an 8 Megapixel rear-facing camera which is capable of recording 1080 pixels High-Definition video. Add that to the 4-inch display and you will get the full 'picture'. Letting aside the video capabilities and the size of the display, Droid 3 comes with a QWERTY keyboard and 3G. Interestingly enough, it grabs a lot of attention due to its HDMI output which is quite a surprise. Just like previous models released by Motorola, it incorporates the ESP smart dock feature which was originally installed on the Atrix. Android 2.3 Gingerbread permits usage in more than 200 countries where there are services that can fit this phone model. Out of those 200, 125 are offering 3G connectivity.
Mr Llamas didn't understand why Verizon offers LTE and its new offer, the Droid 3, doesn't support such technology. There is a chance that Motorola wants to keep the good things for later and bear with other manufacturers for the time being. Releasing more versions is healthy for today's market. Maybe there is a connection to what Apple is planning for the iPhone. It could mean that Motorola already draw a path for the Droid and wants it to be something similar to what Apple managed to accomplish this year.
Quite a do-it-all
Being on the safe side is always a priority with mobile technology. This is why Motorola thought of installing exceptional security measures such as smartphone and card encryption as well as remote formatting and password protection. Business men and women will be happy to see that they can work Quickoffice directly from Droid 3. It supports the presentation with both viewing and editing options. Furthermore, those who are active in the Nasdaq stock market can use the GoToMeeting application which is Android exclusive.
How much and where?
Verizon will give the 'go ahead' for its Droid 3 stocks on its website. It will make the shelves on July 14 at a mere $200, together with a contract spanning two years.