Toshiba have announced two new model additions to its REGZA line of TVs and also we have a bit more info on the anticipated "Cell" TV we spoke about a few months back.
Firstly Toshiba are unleashing 2 new Freeview HD/LED Backlit series to its REGZA TV lines, the WL and SL series. The lower end SL will feature LED backlit screens for that increased contrast ratio/picture quality, built in Freeview HD receiver, built in DLNA(stream video from a DLNA enabled PC) and a 100Hz refresh rate. It will come in 32", 40" and 46" and should be available around April. The WL is the more classy affair. Again LED backlit screens, built in Freeview HD(also upscales standard definition pictures using Toshiba's Resolution+). The DLNA feature with this one isn't built in but comes with a DLNA wireless dongle. What else makes this better, well it comes in the bigger 40", 46" and 55" but also has a better 200Hz refresh rate.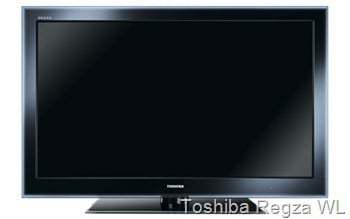 Now for the Cell TV. Toshiba Europe has said that we should be seeing the multichannel masterpiece later this year in the Autumn. It will also include Net Resolution+ to improve internet video quality, will also include video calling capabilities. The main new addition which will make this TV truly spectacular is that it will have 3D support.