There is no escaping it. Cyber security threats are commonplace. Every byte of information that you are sending across the Internet can now be easily hijacked by shrewd hackers. In fact, FBI's most wanted list now include even cyber criminals. Even modern day mobile websites and apps have become vehicles for launching cybersecurity attacks.
If you are a website owner, this can be quite a harrowing time to conduct business. Your online reputation, customer data and even the website control is at stake. How do you protect all of these without breaking your bank? How do you prove to your website visitors/customers that your website is foolproof and insulated from cyber security scams and vulnerabilities?
With the help of a SSL certificate. A SSL certificate can help gain several benefits some of which include:
Encrypted exchange of information
Trust signals or seals for display in sensitive pages
PCI compliance
Increased conversion rates
Better SEO ranking
Enhanced customer trust
Above all, it remains as a viable way to keep your website safe from the claws of cybersecurity criminals.
What factors need to be considered before making the right SSL certificate?
Trial period – because, you want to test the waters before making the full body plunge
Issuance time – If you like what you tried, how quickly can you get the real deal? A too long issuance time (more than a week) is not a good sign
Browser compatibility – Your website should not display errors for users who use different browsers. Ideally the SSL certificate should be 99.99% browser compatible
Encryption strength – The strength of encryption shows how secure your website will be. 128-bit and 256-bit are the most popular choices
Visual indicators – Trust seals, padlock symbol, HTTPS prefix to the URL are some visual indicators that every SSL certificate must have
Now that's only a glance of the most critical factors that you must look for while picking the right SSL certificate. Apart from these, keep an eye for user reviews and ratings, customer service, etc.
Now let's take a look at the top SSL certificate providers who can help you find the right SSL certificate for your website.
Ranking on top of the list is SSL2BUY – Cheapest SSL certificate reseller with almost every SSL certificate on offer. USPs include customer-centric pricing, world-class support, money-back guarantee and top-notch security measures. Comodo, GlobalSIgn, Symantec, RapidSSL, Thawte are some of the popular brand of SSL certificates that SSL2BUY has on offer.  SSL2BUY offers single domain, multi-domain, EV SSL and Wildcard SSL certificates. Their Wildcard SSL certificates are priced $40 onwards making them cheapest wildcard provider.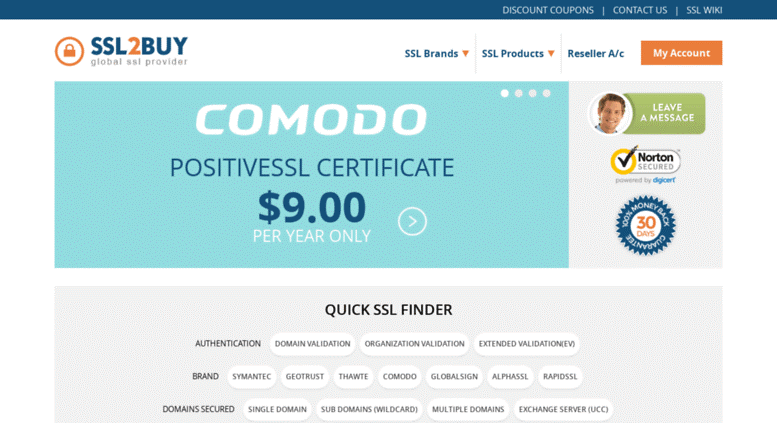 Right from the world's social network – Facebook to the everything store – Amazon, the Internet's giant names rely on DigiCert to establish security for their websites. DigiCert offers single domain, multi-domain, and Wildcard SSL certificates that can help a website owner manage their website's security without being bothered about technical difficulties.


Now under the wing of VeriSign, GeoTrust is an SSL certificate provider who is renowned for SSL certificates that help improve dwell times on websites and also increase conversion rates. Their SSL certificates are priced $149 onwards making them fairly accessible for website owners who take security seriously. As for its reputation as a security agency, more than 100,000 companies across 150 countries use GeoTrust SSL certificates to safeguard their business transactions.

GlobalSign is one of the world's most popular and easily recognized security brands in the world. It is a one-stop destination for a wide range of SSL certificates including Business Validation SSL, Extended Validation SSL, Wildcard SSL, and Multi-Domain SSL certificates. GlobalSign is reputed for its high-security SSL certificates that come with 256-bit encryption, site seals, ECC support and multi-channel customer support.

Iden Trust is the result of 60+ banks and financial institutions coming together to create a strong bank consortium that will also at as a public key certificate authority and secure applications provider. IdenTrust provides SSL certificates for large enterprises, public organizations, private and professional uses. Their range of security products include digital signing, data and email encryption, security systems for Internet of Things and much more. Rest assured, this is an one-stop shop for all your SSL and cyber security needs.

Entrust SSL certificates provide cutting-edge encryption and cloud-based security measures. Entrust also offers a range of products that help enterprises establish website security for their private and public infrastructure. Entrust offers multi-domain, EV validated, UC multi-domain validated SSL certificates that can secure several websites without any hassle.

As the name suggests, Network Solutions used to be a brand that provided all kinds of web services like domain names, web hosting, website builder, email marketing and so on under one roof. Network Solutions now also offers enterprise-grade SSL certificates. You can get SSL certificates from $59.99 onwards complete with Domain validation, 256-bit encryption, 30-day refund policy, $10,000 warranty and instant issuance.


So, what should be your final choice?
All of these top 7 SSL certificate providers provide an excellent way to protect your website without having to break your bank. They come with industry standard encryption, trust seals to showcase your credibility, the green address bar and padlock symbol and the easily recognized green HTTPS bar.
Whether you are a single business owner trying to cover your online identity or an enterprise trying to plug the leaks in your website, a SSL certificate is a good place to start. And, if you are confused as to which is the best SSL certificate providers, these 7 must help you ease your decision-making. You can find any global brand of SSL certificate from these SSL certificate providers. They also offer these certificates on affordable pricing making it lighter on the wallet for everyone.