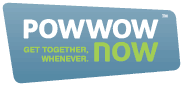 Conference calling is booming in the business world, such is its versatility and efficiency in keeping operations running smoothly. This is exactly why there are so many conference call providers out there putting everything into make everyday business that little bit easier.
The efficient business function has now arrived in the world of mobile technology, too, so running a business has never been easier. Businesspeople can now schedule, make and join a conference call in the palms of their hands and most services are completely free. Applications like PowWowNow and PGi can be downloaded to your iPhone or Android from the iTunes Store or the Android Market for free.
Conference calling on your mobile adds a whole new dimension to running a business. It allows you to manage your time much more efficiently and, inevitably, fit more into your day. You won't have to waste time travelling to and from meetings and, if you do need to go to a face-to-face meeting, you can hold another conference on the way.
Perhaps the best thing about mobile conference calling is the fact that you can record every meeting you hold or attend, so there is no need to frantically scrawl the most important points down during the call – the app will do it for you so you never miss a thing.
Similar applications are available via the internet, downloadable to desktops and laptops, and these go some way to improving the efficiency of the business world. Skype, for instance, is a great web app through which you can make free voice calls and chargeable video and group calls to your employees and business partners. This is great if you are sat in your office or at home, but it is not quite as portable as the applications you can get for your phone. In fact, that is exactly why Skype introduced a smartphone and iPhone app of its own.
PowWowNow is free so the caller only pays for the cost of their local call, which makes it both a time and cost efficient business tool. With this app, you can send reminders to all the participants of your calls and even choose the music that plays when you put users on hold. It's the little things that matter. So, if you're looking to make a free conference call UK providers are where you need to turn.