Education is an important part of our early (or even later) lives, and with so many people wanting to better themselves by learning new things, make their minds sharper and find the best university course to suit their future, there is an abundance of apps out there to help.

Whether you want to learn a language to broaden your horizons, or you want a sharper brain with better cognitive functions to stop you being so scatterbrained and forgetful, there's an app that can help. There are even apps that directly help you to get into education, such as those that search for university courses and help with the stresses of entering clearing when you don't get the A-level results you were expecting.

Duolingo

Launched in 2011, and with over 300 million users worldwide, Duolingo is one of the most popular apps for learning a language. They currently offer 85 different courses in 24 languages, and all have periodic assessments to monitor and ensure progress.

Duolingo has a simple and clean user experience and even allows you to learn the fictional High Valyrian language from the popular Game of Thrones series. There are several other fictional languages (such as Klingon) in beta.

The educational app provides daily tasks and uses both written and spoken content to help you learn the language. It plays words to you, having you speak the words and sentences back.

Peak Brain Training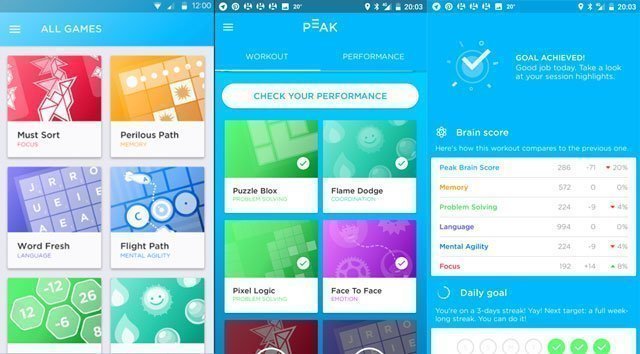 One of the sleekest brain training apps available, and listed as one of the Guardian's Top 5 Brain Training Apps, Peak has a wonderfully polished collection of brain training games which cover several areas. With memory, attention and mental agility games, Peak has it all.

Over 30 mini-games are available to play, with your daily session being varied each time. A great little app to help train your brain, the monthly subscription version at £3.99 lets you play to your heart's content, training your brain even harder while giving you more in-depth statistics.

University Clearing App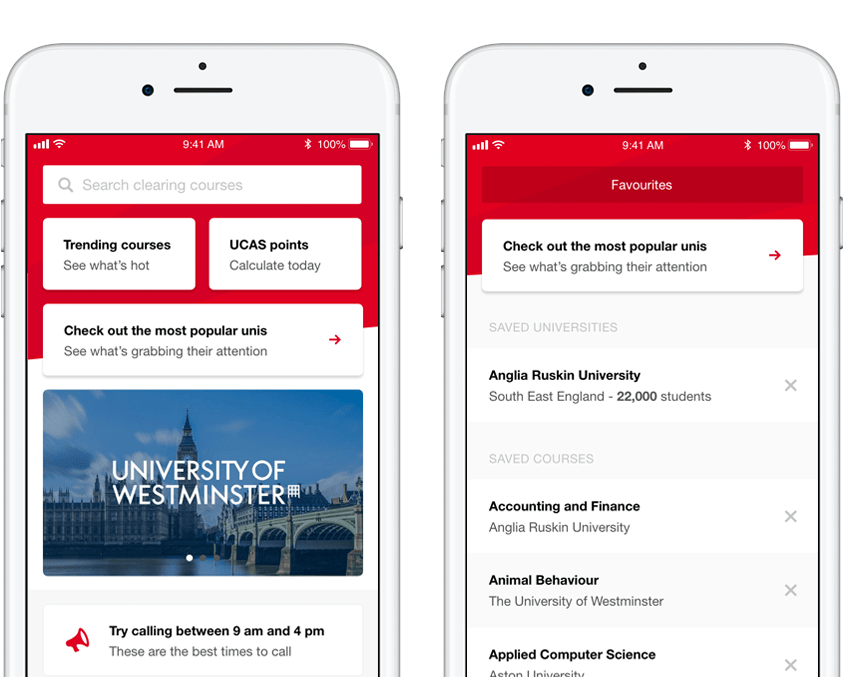 The Clearing app is designed for those who didn't get the university spaces they wanted, and have entered "clearing". You can search for clearing spaces on the app and click the "call" button to be directed to a university clearing hotline.

With all the available places in one convenient location, the app makes a long, tedious and research-heavy task so much simpler and makes it more likely that you'll find the perfect university course for you, even when you didn't get the results you were hoping for.

Uni Compare

Finding the right university course can be stressful. Choosing the right course is important, as it sets you on the path you'll be on for life. Courses should be chosen based on your interests, the A levels you did and the career prospects that you'd like to have after university is finished.

Uni Compare is the perfect app for your UK course search for university. With over 110,000 current users, the app allows you to search tens of thousands of courses across 424 universities, so you can find the perfect course. With all disciplines included, such as mathematics, English, science, medical and more, you can watch videos, book open days and personalise your profile.

The simple search function allows you to save results to look at later and gives you statistics, such as employment rates and average salaries to give you a better feel for whether it's right for you.

You can view course details, compare courses and filter the searches to find the perfect course for you.