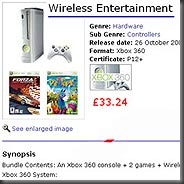 I think it was only the other week when ASDA screwed up and had bottles of beer available for 1p. This time is the turn of Tesco, they have been accidentally offering Xbox 360 consoles online for just £33.24.
The pricing slip-up would have meant a giant saving for customers, as the Xbox package was meant to cost ten times as much.
Sharp-eyed shoppers were quick to spot the bargain on the supermarket giant's website. At least one customer ordered 39 of the knock-down consoles online and had the payment accepted – but they have not been delivered.
The deal offered the Xbox 360, the Forza Motorsport 2 and Viva Pinata games plus a wireless control pad.
According to Trading standard it is illegal to raise the price of a product if the customer has already had their offer accepted. However the Tesco website says if they make a mistake with the price, they are not obliged to stick to it. It is not clear if Tesco will honour the order however the Asda mistake mentioned above was apparently not honoured.