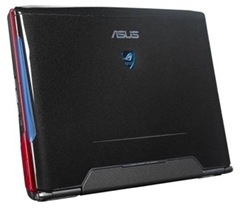 Asus is set to release the words first official Quad Core gaming notebook!
Based on the new Intel QX9300 quad-core processor the laptop comes with a 17 inch display,  GeForce 9700M GT GDDR3 512MB, 4gb Ram and up to 1TB hard disk.
There will also be a 2Mpix web camera, Bluetooth V2.1, and Blu-ray writer.
A pretty nice spec if you ask me, though I am sure you will pay for it!
No word on battery life yet! 🙂
Full press release follows.