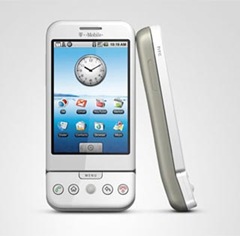 Phones Review have posted 2 links to You Tube video reviews comparing the iPhone and G1.
The reviewer is quite thorough and basically shows you many features of each phone and compares the two together to see what one is better.
Personally I am not a huge Apple fan so I am a bit biased against the iPhone, however you can't deny it is a good phone. I feel that the G1 has more flaws than the 3G iPhone however this is the first incarnation of the phone, and if we look at the first iPhone that had even more flaws, especially the lack of 3G!!!
I think Android/G1 is more of a grower and not a shower at the moment. I do have complete confidence that Android will become the best Smartphone OS out there it just requires a hardware manufacturer to release something to make the most of the OS. It also means that Android could potentially have hundreds of different hardware options at any one time. This is where the iPhone is let down, there is only 1 company releasing hardware for it so the phone will always have people that don't like something about it.