American blog site This is my next has reported that they have access to documents confirming that the Sony S1 will be available for pre-order in the UK exclusively at Sony Centre stores and that the Sony stores may have something of an exclusive on the product. Alas, the documents were not specific as to a price and an exact release date, but it does appear that Sony is on track to keep its promise to be the first Android Honeycomb tablet to market.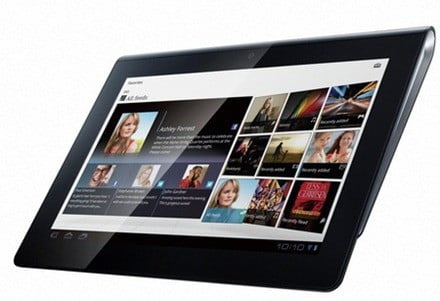 In addition to the pre-order date leak, several tech bloggers were invited to a Sony round-table event held in conjunction with the announcement that S1's sister tablet, codenamed the S2 oddly enough, will be released as a carrier-exclusive to the American wireless provider AT&T. The round-table included a hands on demonstration with both the S2 and the S1.
From the various early impression reports from Engadget, Gizmodo, and Tech Crunch , we can glean the following about the S1. First, the shape is a wedge, something different from all the other tablets out there. This makes the S1 far easier to hold in ones hand for reading (Gizmodo goes as far as claiming that the S1's weight distribution is optimized for being held with one hand) and is far easier to read while the tablet is laid on a table. Viewing-angles are also excellent as well. Sony did not disclose many specific hardware specs on the S1 other than Wi-Fi. The S1 is PlayStation certified and plays video clips smoothly, so there has to be some horsepower there.
Sony looks to be making ease-of-use a centerpiece of its play with the S1 through the use of Quick View and Quick Touch Panel. Quick View is really just loading web photos before any java script. Quick Touch Panel seems to be an algorithm somewhat like predictive text except it tracks gestures. The reviewers were mixed on whether there was any particular speed-up verses other Android tablets. No one seemed to want to go into a lot of detail on the software side, which probably means that the unit was running some beta-build not close to being ready for release, or Sony wanted to keep the majority of the software features under its NDA, or both.