Sony have announced the full specification of the PS Vita at the Tokyo Gaming Show.
One of the important specifications they listed that wont please many is that the PS Vita will have just 3 to five hours gaming time per charge!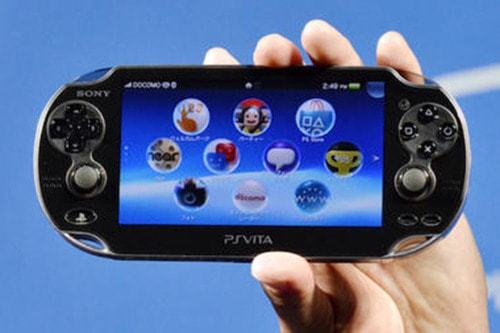 Sony have confirmed that the e system would be released by the end of 2011 in Japan but not until "early 2012" in North American and European regions. It is believed to cost £229 when launched and 26 games will be available at launch including "Ridge Racer," "Uncharted: Golden Abyss," and something called "Army Corps of Hell."
Model number: PCH-1000 series
CPU: ARM® Cortex™-A9 core (4 core)
GPU: SGX543MP4+
Main memory: 512MB
VRAM: 128MB
External Dimensions: Approx. 182.0 x 18.6 x 83.5mm (width x height x depth) (tentative, excludes largest projection)
Weight Approx: 279g (3G/Wi-Fi model), 260g (Wi-Fi model)
Screen: 5 inches (16:9), 960 x 544, Approx. 16 million colors, OLED, Multi touch screen (capacitive type)
Rear touch pad: Multi touch pad (capacitive type)
Cameras: Front camera, Rear camera; Frame rate: [email protected]×240(QVGA), [email protected]×480(VGA); Resolution: Up to 640×480(VGA)
Sound: Built-in stereo speakers, built-in microphone
Sensors: Six-axis motion sensing system (three-axis gyroscope, three-axis accelerometer), Threeaxis electronic compass
Location: Built-in GPS (3G/Wi-Fi model only), Wi-Fi location service support
Keys/Switches: PS button, power button, directional buttons (Up/Down/Right/Left), action buttons (Triangle, Circle, Cross, Square), shoulder buttons (Right/Left), right stick, left stick, START button, SELECT button, volume buttons (+/-)
Wireless communications: Mobile network connectivity (3G/Wi-Fi model only), 3G modem (data communication): HSDPA/HSUPA *specification for Japanese region, IEEE 802.11b/g/n (n = 1×1)(Wi-Fi) (Infrastructure mode/Ad-hoc mode), Bluetooth® 2.1+EDR (A2DP/AVRCP/HSP)
Slots/Ports: PlayStation®Vita card slot, memory card slot, SIM card slot (3G/Wi-Fi model only), multi-use port (for USB data communication, DC IN, Audio [Stereo Out / Mono In], Serial data communication), headset jack (Stereo mini jack) (for Audio [Stereo Out / Mono In]), accessory port
Power: Built-In Lithium-ion Battery: DC3.7V 2200mA, AC adaptor: DC 5V
Operating environment temperature: 5℃~35℃
Supported AV content format: Music – MP3 MPEG-1/2 Audio Layer 3, MP4 (MPEG-4 AAC), WAVE (Linear PCM). Videos – MPEG-4 Simple Profile (AAC), H.264/MPEG-4 AVC High/Main/Baseline Profile (AAC). Photos – JPEG (Exif 2.2.1), TIFF, BMP, GIF, PNG