So there has been a lot of talk about OLED TVs over the years and not much delivery. Sony is now saying that they will be delivering the new OLED TVs to Japan in December! Hurrah!
Don't know what OLED TVs are? Well these are Organic LCD TVs, an OLED (Organic light-emitting diode) has a great benefit over traditional LEDs because they do not require a backlight to function, this therefore draws considerably less power than a normal LED and helps improve the contrast ratio. They are also more efficient to produce than traditional LCDs and Plasma, so why aren't we using them already? Well they have some pretty serious degradation problems with life spans of around 5,000 hours (worse than plasma).
However it would appear that Sony have been doing some wizardry and managed to get them OLEDs to degrade at a more reasonable rate. So what is the consumer going to expect from these TVs? Well Sony showed off 2 versions recently.
The first was a tiny 11" OLED Screen, what is so special about that I hear you ask, well this particular screen is a mere 3mm thin!!!!!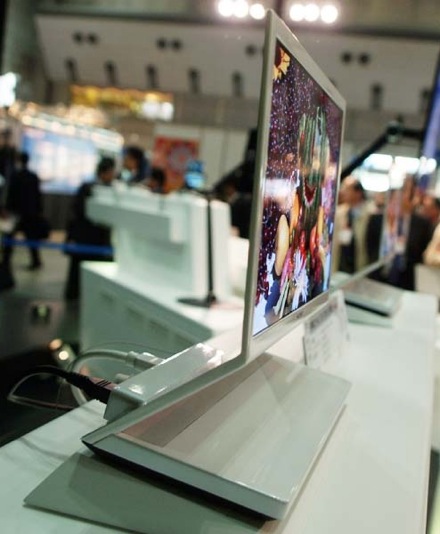 The second is a more usable 27" prototype, ok it is not as big as most LCDs out there but what makes this special is the 1,000,000:1 contrast ratio and 1080p! Now considering the top of the range 52" HD X Series from Sony only has a 7000:1 contrast ration that is one hell of a contrast!