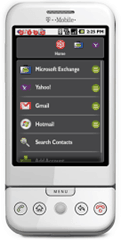 Anything that adds some new functionality to Android sounds good to me.
SEVEN is the first Android solution to address both personal and business mobile email—along with calendars and contacts—on one intuitive and integrated client interface. The SEVEN Android client is available today for carriers and device manufacturers who plan to embed mobile email solutions on Android devices. SEVEN is currently demonstrating Android solutions at the GSMA Mobile World Congress in Barcelona.
SEVEN on the Android platform will provide the proven robust features that have resulted in other highly successful messaging services including:
Ultra-simple activation: same easy, two-click activation that's available today from SEVEN on many devices can also be pre-configured for Android so that end-users only have to enter their email address and password.
Support for business email: provides mobile subscribers with seamless and secure access to Microsoft Exchange or IBM Lotus Domino corporate email, which represents 80% of the corporate email services in use without installing any software behind the firewall.
Easy access to popular Internet email: consumers have instant access to multiple accounts from popular providers such as AOL, Gmail, Microsoft Live Hotmail, MSN, Yahoo! and other internet email providers as needed to support local markets.
Integrated contact management and search: for contacts stored on the device as well as remote contact lists from personal address books and corporate directories.
Robust calendar support: ability to edit, delete and add appointments from personal or business calendars including Microsoft Exchange.