The disastrous Galaxy Note 7 hasn't stopped Samsung moving ahead with their flagship phablet style phone. The Galaxy Note 8 has been officially announced and can be pre-ordered for £869 (inc. VAT) with deliveries starting September 15th
The Note 8 is equipped with a 6.3-inch Super AMOLED display with a Quad HD+ resolution of 2960 x 1440 pixels and it comes with 521 ppi. It has an edge to edge display similar to its smaller cousin the S8.
It is powered by an octa core Snapdragon 835 processor in some countries and an Exynos 8995 in others.
There is 6GB of RAM and you can choose between 64GB, 128GB and 256GB of storage, and as usual, you can upgrade the storage via microSD
The battery is 3,300mAh which is suspiciously smaller than the Galaxy S8+ which uses 3,500mAh
The Note 8 will be the first Samsung phone to implement a dual camera arrangement allowing you to get a  2x optical zoom
There's a difference in the maximum aperture of the cameras, with f/2.4 and f/1.7 ratings respectively.
Again, the f/1.7 aperture of the wide-angle camera is the same as the S8, suggesting that it's probably the same unit.
As usual with the Note series, one of its main selling points is the S Pen which has a 0.7mm nib and can detect 4,096 levels of pressure.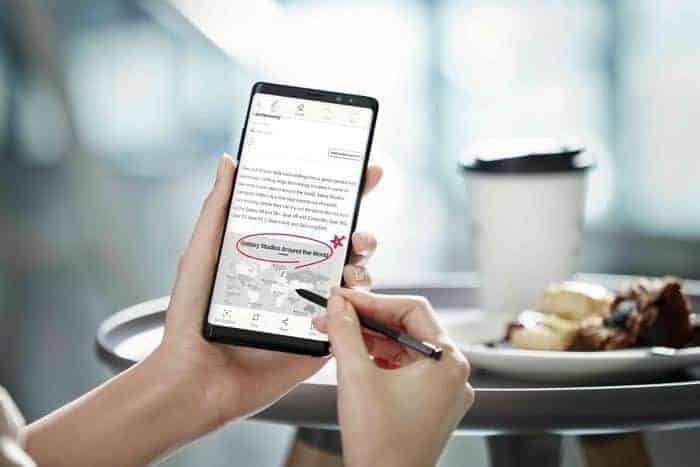 The handset comes with NFC, WiFi, Bluetooth and 4G LTE, it features an iris scanner, facial recognition and a fingerprint scanner.
Overall, specification wise it is very similar to the S8+ the main difference is the S Pen and camera. For this, you will be paying a £90 premium. Not too bad, but it is still a very expensive to phone to buy!
You can pre-order today from Samsung and many other retailers.