Repair Corrupted Video Files Online with Restore.Media
With the diversity of video camera models and various devices equipped with camcorders, it's really easy to shoot some great footage even if you're not a pro cameraman. Action cameras like GoPro, drones, DSLRs, even mobile phones coupled with a gimbal stabilizer and post-production software is all you may need to produce a sematic-quality video.
Just a week ago I was on a friend's wedding and decided to take my Mavic Air to try and take a few memorable shots. I don't really like all those ceremonies during the official part of the wedding, so I thought, it will be more fun for me to test-drive the Mavic during that time. Also, I wanted to try a few drone shooting tricks and get a really nice video. Of course, there was a professional photographer too.
When shooting the video, I was so engaged with the picture on the screen, that I somehow crashed my drone into a tree. I can't really explain how this could happen. In the past, when I saw videos of someone crashing their drones into a tree, I thought this will never happen to me. Because, how in a world can you not see and miss a TREE? Eventually, it appeared to be quite an easy task.
Luckily, though, the drone didn't fall on anyone and wasn't damaged much – I just had to replace one of the propellers. But later on, when I downloaded the footage, it appeared that I couldn't play the last video file – the one that should have captured the crash. After Googling around, I realized that the video file got corrupted because the recording wasn't stopped properly. The drone just couldn't finalize the file, although the actual video was recorded just fine. After a few trials and errors, I managed to repair the corrupted video file with the help of the online tool – Restore.Media. So, in this article I'd like to cover a few key points on how to repair damaged video files and how to choose the right tool for this.
How do video files get corrupted?
This is easy. Most modern video file formats, like MP4 and MOV, contain so called "headers". The headers store data about video resolution, size, length, frame-rate, bit-rate, codecs used to encode the video, etc. Headers are needed for media players to play the video. When you press the STOP button on your camera, it builds the header based on the recorded video and saves it at the end of the file. Now, if the recording was interrupted by an accident and you haven't pressed the STOP button before the camera shut off, it may fail to save the header in the video file. As a result, although the recorded file contains actual video data, it can't be played back due to the missing or damaged header.
Luckily though, there is a solution to repair such corrupted video files.
How to repair corrupted video files?
To repair a corrupted video file, you need to fix an existing header or insert a new one into the file that you can't play. There are quite a few video recovery tools that can do this for you. After trying around 5 tools, I decided to stick with an online tool called Restore.Media.
Here is why:
1. First, and most importantly, I realized that Restore.Media is the only tool that provides a full-time preview of the repaired video completely free of charge. Other tools have lots of restrictions forcing you to buy the tool before you can even repair the file and see the results. And some tools show you only the first few seconds of the repaired video in the trial mode. In my case, I wanted to see if the video was fully recovered up till the end when the drone crashed.
2. Second, Restore.Media is the only video recovery tool that provides you with an option to request a manual video repair service. While I didn't order this option, I can imagine a situation where I need to repair a VERY important video shot for a client and would better not mess with all this stuff myself, but let professional engineers do the work for me.
3. I also find it convenient that Restore.Media is an online tool. It works straight in your web-browser, so you don't have to download or install anything. This way, you can repair you video files online virtually from any device that has an internet connection and a web-browser.
4. Restore.Media features video repair algorithms optimized for specific camera models. As per Restore.Media's FAQ, this guarantees higher video recovery success rates. In my case, I found Mavic Air among the supported devices.
5. This tool also allows you to fix video files in all common formats, including: MP4, MOV, 3GP, MXF, etc.
6. Finally, Restore.Media has an easy-to-follow interface, which guides you through the video recovery process step-by-step. The process is dead simple:
Step 1. Register a free account.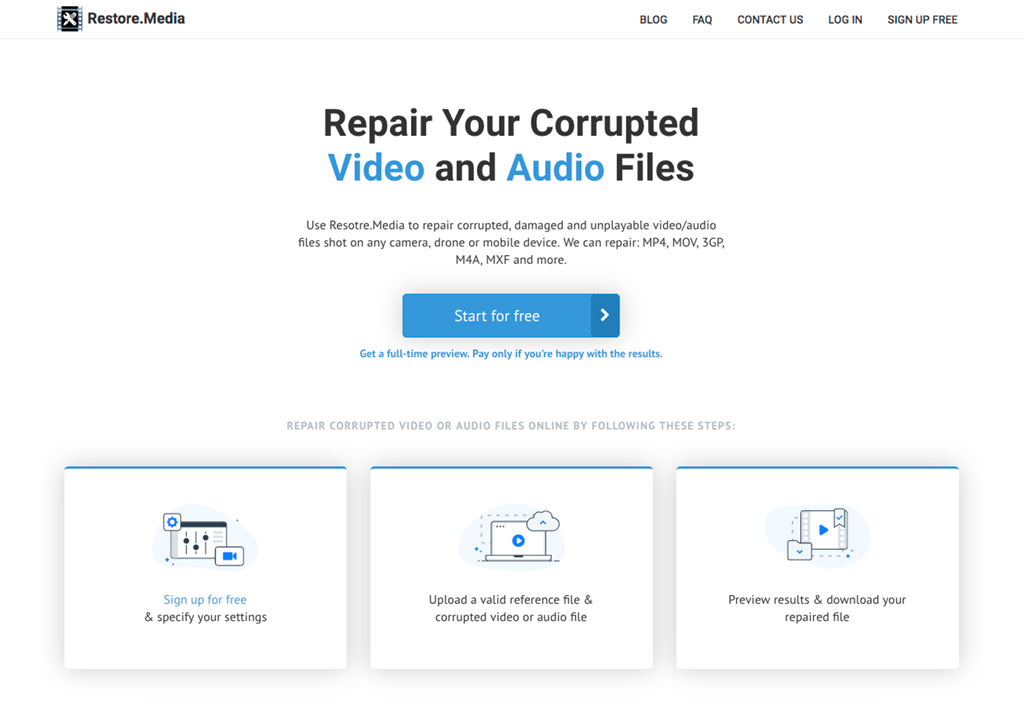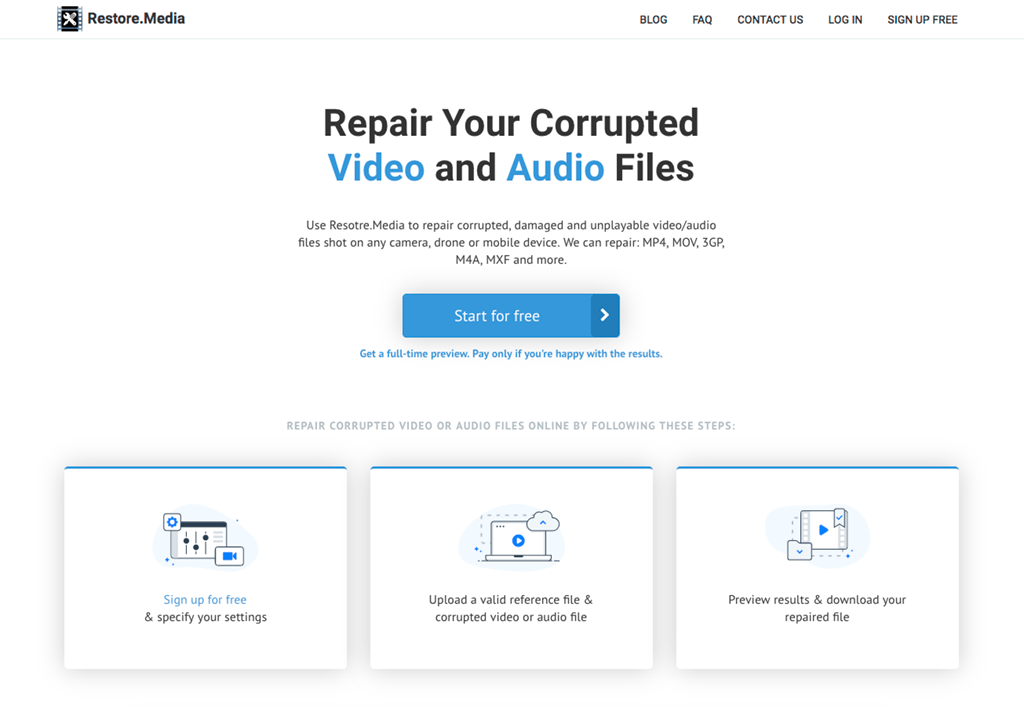 Step 2. Specify your camera model and give a short description to your video.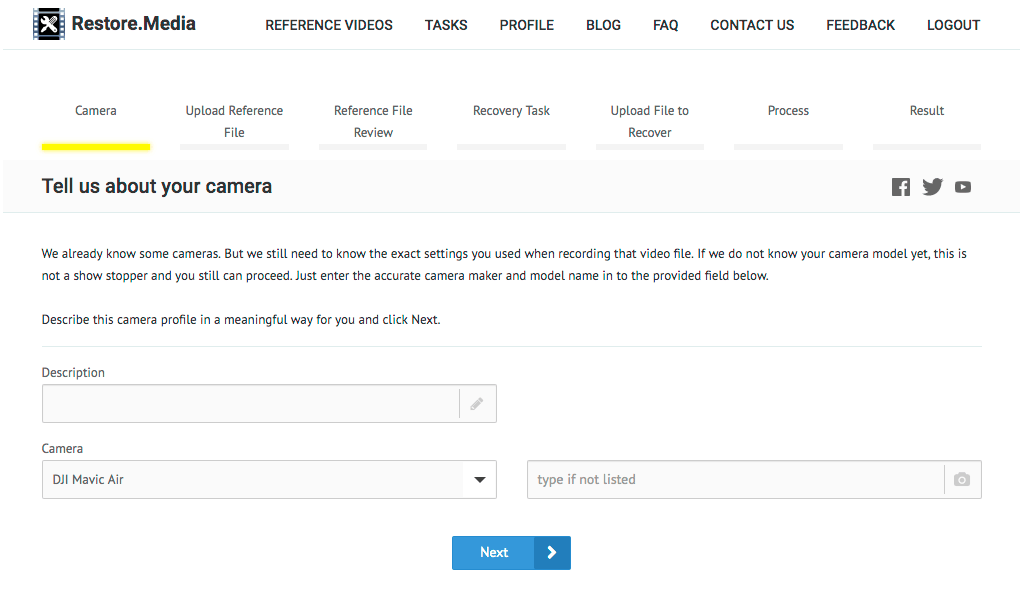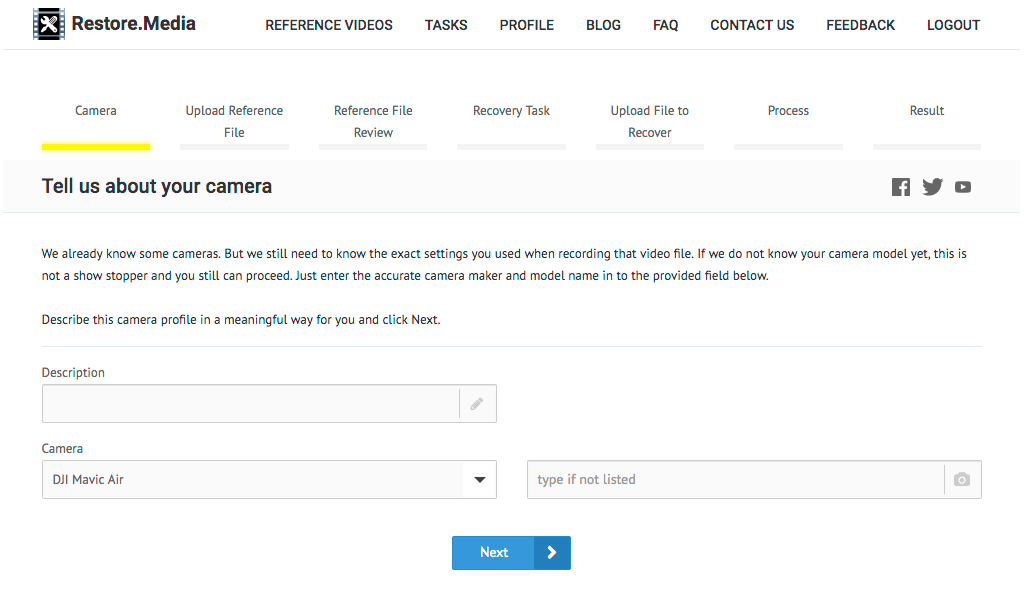 Step 3. Upload a reference video file. This must be a working video file recorded with the same camera and settings as the damaged video. I used the video I shot just around 10 minutes before the drone crashed.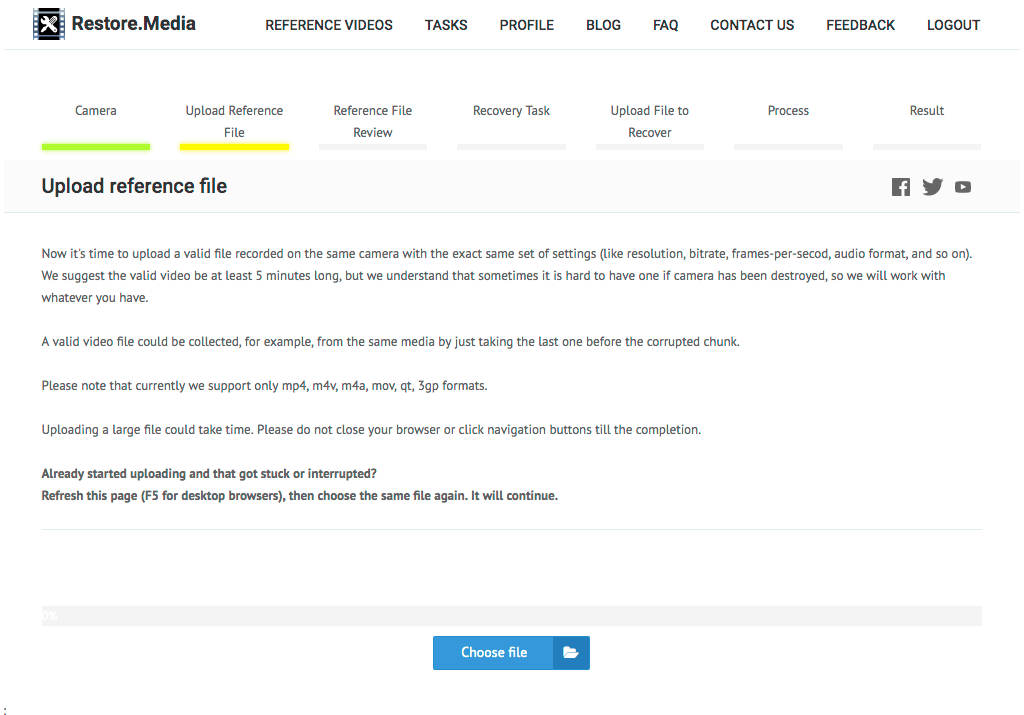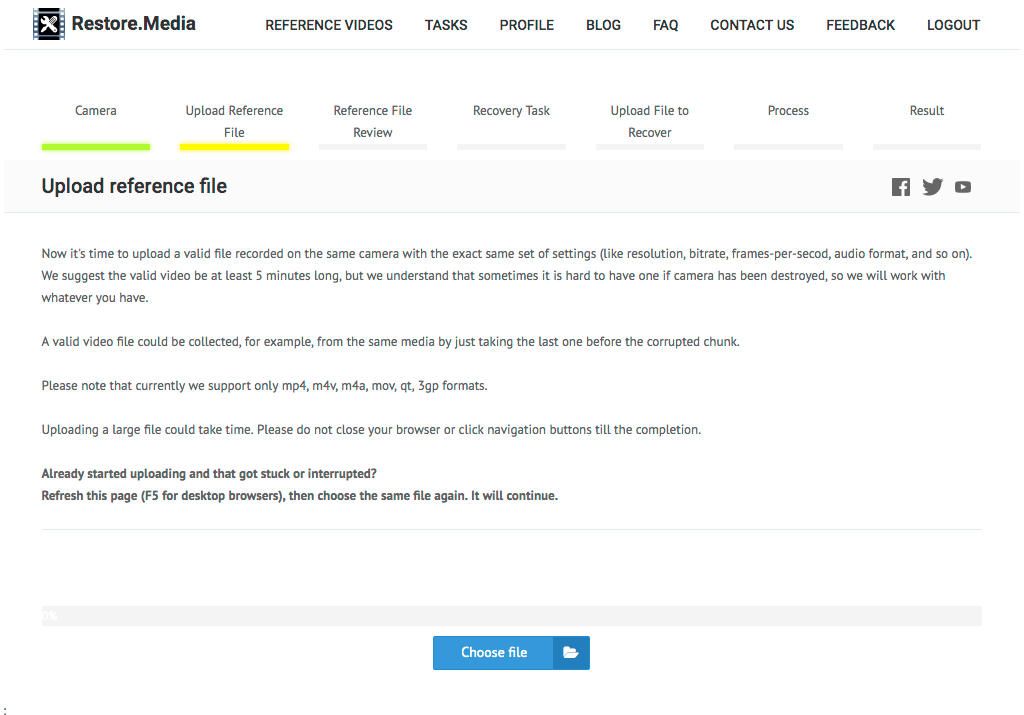 Step 4. You will be shown details about the uploaded reference video. Click Next to proceed.
Step 5. Give a name to your recovery task. Just use a short meaningful description here.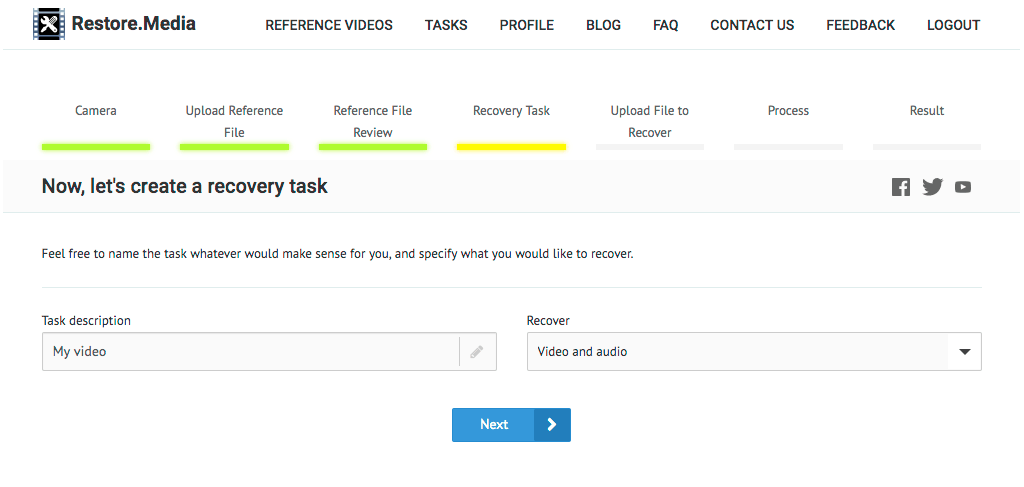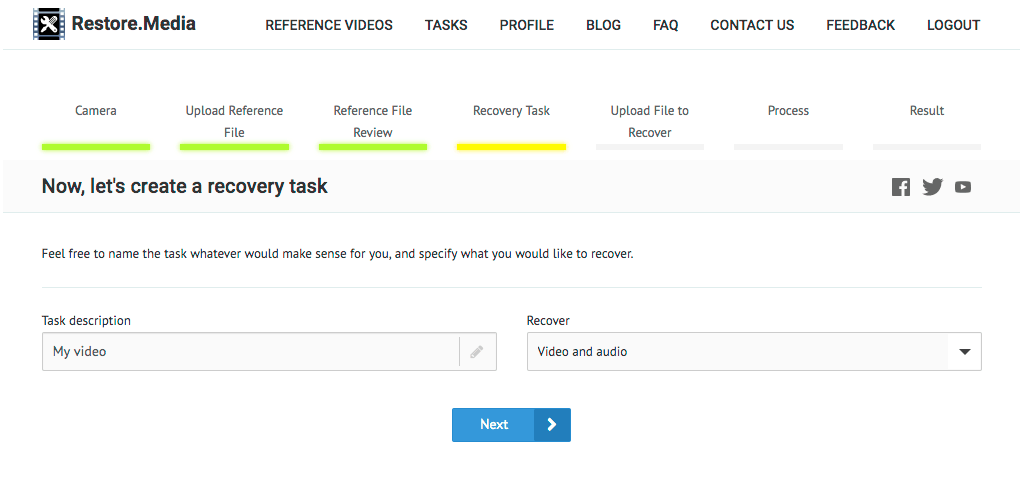 Step 6. Upload your corrupted video. Restore.Media will start repairing it immediately once the video is uploaded. This may take some time, depending on the video size. Once the video is repaired, you will see a few screenshots taken from the video along with a full-time preview. The preview is in low resolution and bit-rate, but should be enough to check if the video was actually fixed.
If everything is fine and you're happy with the results, you can proceed and download the repaired video in full-resolution. If the video wasn't repaired, then you can either try another reference file, or request a manual recovery, so that Restore.Media's engineers process the files for you.
Hope, this short guide was helpful. If you've got a corrupted video file, don't panic. There is an easy solution to repair it online!