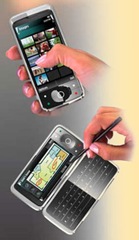 During a recent S60 podcast Nokia did a slide presentation  that included a glimpse of an unknown Nokia device that included a large touch screen on the front and opens up to reveal a 2nd full internal touch screen.
The external screen is said to swivel 180 degrees, allowing the two touchscreens to face each other.
I personally love my E90 so I would love to see a major upgrade like this. I will remain skeptical until I something more solid is released.
Via Symbian Freak