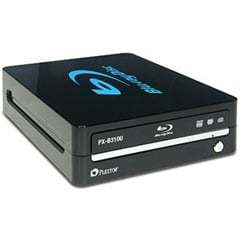 Plextor have been one of the leading brands for optical drives for many years so it is no surprise they are still churning out various drives to suit all needs.
Today we have the Plextor PX-B310U External Blu-ray Combo Drive which unsurprisingly is a external Blu-Ray Reader and Super Multi Writer. The super multi writer means this can burn your standard array of DVDs/CDs  etc with DVD writing speeds up to 16x.
On opening up the packaging you realise this is large for an external drive, it dwarves the Lite-On Slim DVD writer that I will be reviewing next. However while it is quite large it is a good looking device and doesn't take over my desk. It is also nice to have my Blu-Ray drive at reaching distance rather than having to reach around the back of my desk to insert a disk.
The PX-B310U is powered externally with the supplied adapter and connects to the PC via USB 2.0. This means it is an absolute breeze to install and move between PCs.
I have been using the PX-B310U as my main Blu-Ray/DVD drive for the past couple of weeks and have found no issues with it at all, I found it quite quiet, at least compared to the drive in my PC. It does make the usual noise when burning or writing but this is always the case with optical drives.
Obviously one issue people need to be aware of is that their PC needs to be powerful enough to process 1080p.
Overall the PX-B310U is a great optical drive and if you are looking for an easy way to add Blu-Ray functionality to your laptop or desktop PC then I would 100% recommend it. However if you are running a desktop PC and don't mind fiddling with the insides of it then it maybe worth buying an internal drive as these can now be bought for as little as £50.