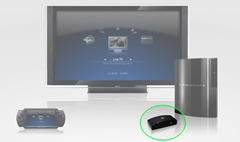 Amazon have revealed that the PlayTV add-on for the PS3 will arrive in the UK on July 31st.
For those not in the know the PlayTV is a small box packing dual tuners with a seven day EPG allowing you to record shows onto your PS3 hard drive.
Granted if you have a 40 Gb PS3 it is not the most space for a PVR but it is more than enough to store a few episodes of your favourite show, and you can always upgrade your HD.
Pricing is not to bad at a reasonable £60.