"Fastest LCD screen on the planet" is on its way to us according to Dutch electronics giants Philips which has announced some details on its new 9000 Series Smart LED televisions. It makes you wonder where the line will be drawn at the ever increasing technology in television screens. Back in the old days of CRT screens little happened with them in 20 years in terms of the technology, it was more the design that changed, since the explosion of LCD and Plasma they get better so rapidly. Anyway back to the Philips 9000.
Measures  less than 40mm in thickness
Full Active 3D with Full HD Picture
Real-Time 2D to 3D conversion
3D Max Technology – High Clarity and Sharpness (can process 2billion pixels per second – wow)
400Hz Clear LCD Panel
0.5 millisecond response time (where the speed comes from)
3D Super Resolution and LED Pro Technology – added brightness, "extreme" contrasts, vivid colours, deeper blacks etc
40W audio soundstage
Smart TV – movie rentals, social network access, smartphone control
Full screen gaming "either split screen in 2D mode or a 3D mode where each player can simultaneously see his or her view on the entire TV screen."
Sadly there's no details on the release date or the price of this little number but it certainly looks great and the specs are top drawer so you can expect it to be a little on the expensive side.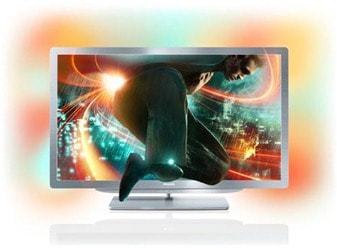 Source : T3