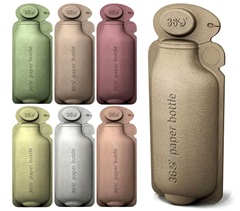 Brandimage have come up with an ingenious solution to the millions of plastic bottles that are used each day for water. They have developed the 360 Bottle which is made from 100% renewable paper.
Apparently 60 million plastic bottles are used each day in the U.S alone! So if this product could hit the mainstream there would be considerable benefits for the environment!
Also I am sure Brandimage would earn a little pocket money if they managed to get all 60 million of them bottles made from their product!
The company has already received an IDEA (International Design Excellence Award) for this design so hopefully it will get enough attention to be taken seriously as an alternative for plastic bottles.