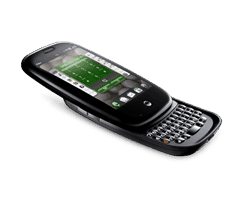 While more used to a business market Palm have decided to jump onto the consumer SmartPhone bandwagon launching a new phone presumably to compete with the like of the iPhone, Storm and G1.
Most interestingly the new phone, called the Pre, will not use Microsoft Windows Mobile like the normal Palm smartphones but use a new new integrated solution based on cloud computing called the Palm Web OS that is built on top of CMS, HTML and XML.
The Palm Pre will have the latest TI3 OMAP CPU, EV-DO Rev. A, 802.11b/g, GPS, Bluetooth, 8GB of internal storage, a 3MP camera with LED flash, MicroUSB connection, mass storage support, 3.5mm headphone jack and Bluetooth A2DP support. The screen will be a 3.1 inch multitouch display with a 320 x 480 resolution.
Apparently the Pre with have a touchscreen gesture area right underneath the main display allowing for gesture controls which is supposed to make common tasks a breeze.
The phone will have a built in service called synergy which will allow you to log into multiple online sources including Google, Outlook and Facebook and synchronise your contact and calendar data without causing duplicates.
Another very interesting feature is that Palm have decided to dump the old charging methods and use inductive charging, dubbed touchstone. Inductive charging is where the device is place on a charging surface and it essentially charges up wirelessly. The technology has been around for several years now, and is most commonly used for electric toothbrushes, however beyond this they have not been a suitable solution for most consumer electronics as charging is slow.
I have to say I am quite liking the look of this new Palm, it certainly seems to tick a lot of the right boxes for my requirements in a phone. I think 2009 will be a big year for phones,
More images and video after the jump.