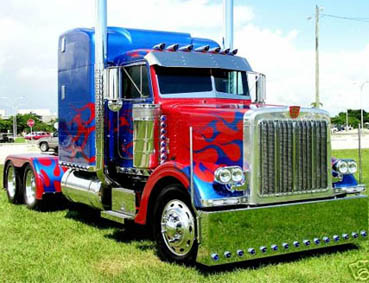 The Optimus Prime replica is being auctioned for $50k on eBay's Canada store.
The seller has converted a 1994 Peterbilt into Hollywood's version of Prime, complete with blue and red flame paint job, dozens of chrome switches, and a 17-inch entertainment system floating above the bunk in the back.

The only thing it lacks is its ability to transform into the Autobot Commander!
One thing i can say for sure is whichever lucky sod wins this auction, he/she (most likely a guy) is going to become one popular fella – dudes will think he's cool, dudettes are gonna love him and kids are gonna think he's a living hero.
Features
*Voice activated alarm, with the voice of Optimus Prime on lock and unlock mode.
*17 inch LCD TV/DVD
*JVC JAVX33 Stereo CD/DVD player with Bluetooth and Satelite Radio ready
*Infinity Sound system, speakers and subwoofer
*New Memory Foam mattress in sleeper
*Custom 2 tone (red and blue) gear shift with flames
*Legacy Low profile leather bucket air Seats
*All pedals are chrome with rubber flames
*Custom interior with two tone (blue/red) flames
*Wood floors
*Chrome wheels with new virgin tires 285/75R22.5.
*All switches, light covers, speaker covers, arm rests and steering (chrome)
*Chrome columns and wood steering wheels with flames
*Dual Chrome 7 inch stacks
*Chrome Sunvisor
*Brand new accessories and new, top of the line, custom Sherwin-Williams automotive paint Base coat/Clear coat.