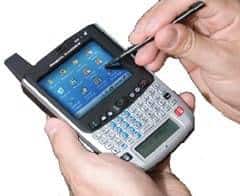 He maybe the most powerful man in the world but he doesn't get everything his own way. Barack Obama is a massive fan of his Blackberry but now he is President he has to use a phone that has been NSA approved for any official business. Unfortunately for Obama the NSA are a little behind the times and he has been forced to use a Windows powered Sectera Edge. I can't say I have heard of these devices before but they are not the general public kinda device.
There is no word on what the operating system is exactly but I can only assume it is not Windows Mobile 6.5. I hope they ironed all the bugs in the OS out for him or the device might crash mid peace talks / starting a new war.
Features and specifications listed by General Dynamics for the Sectera Edge include:
Processor — not disclosed
Memory — not disclosed, but has separate RAM and ROM for unclassified and classified modes
Display — 2.8-inch QVGA touchscreen display
Wireless interfaces:

WAN — GSM (850/900/1800/1900)/EDGE, GSM (850/1900/2100) UMTS/HSDPA, or CDMA (800/1900) 1xRTT, CDMA (800/1900) EV-DO Rel. A
WAN — 802.11b/g (optional)

Other I/O:

1 x USB
1 x serial (operable in classified mode only)
2.5mm stereo headset jack

Expansion — microSD slot
Dimensions and weight — not disclosed
Operating temperature -9 to 140 deg. F
Pricing for the Sectera Edge was not revealed, but the device is available now, according to General Dynamics.
Oh and it puts the iPhone design to shame!