Gamers have been eagerly anticipating this day for the past few months, NVIDIA has finally released details of their consumer grade cards based on their Pascal architecture.
The basic nitty gritty of the release is that the GTX 1080 will retail for $599 (£450), $50 more than the GTX 980 cost at launch, while the GTX 1070 will retail for $379 (£270), also $50 more than the previous generation card. The 1080 will launch 27th of May, and the 1070 on 10th of June.
The increase in price may not be welcome news most, but NVIDIA may be able to justify it if the performance claims are true. The company claims that both cards are significantly faster than its current flagships, the GTX Titan X and GTX 980 Ti, which retail for $1000 (£800) and $650 (£550) respectively. In the case of the GTX 1080, NVIDIA claims it's twice as fast as the Titan X and three times as energy efficient they even say it's faster than dual-SLI 980 setup.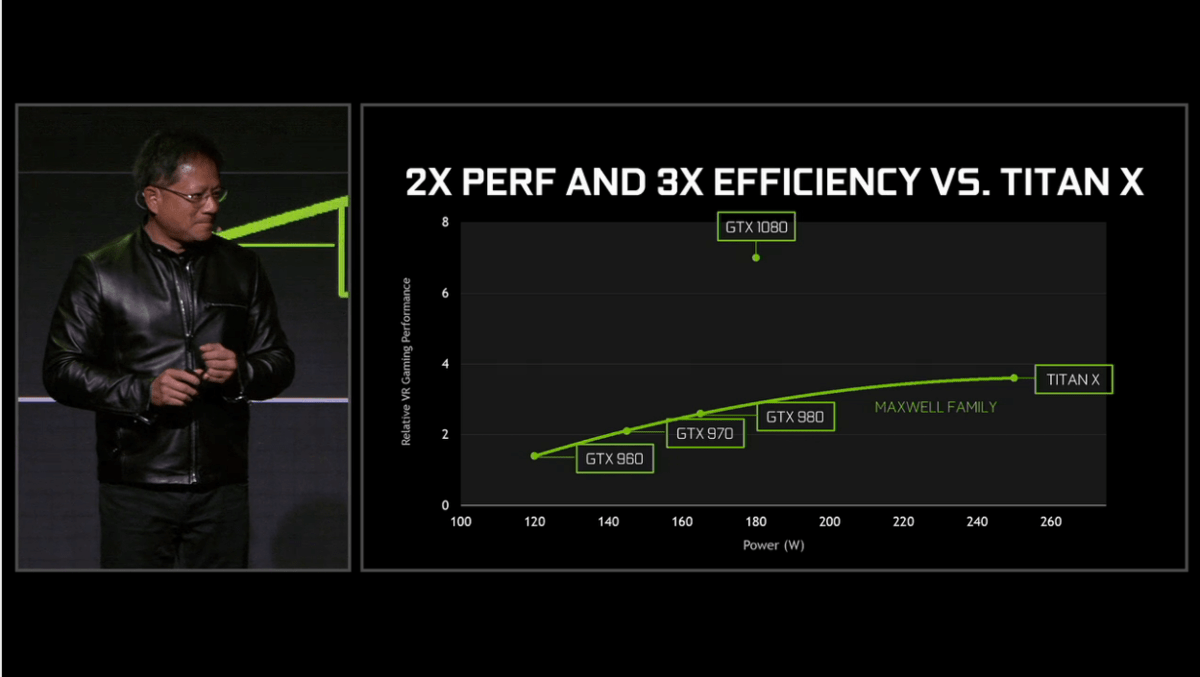 In regards to specific power requirements the GTX 1080 card is rated at 180W whereas the Titan X and GTX 980 Ti both need 250W. Interestingly, though this is still a higher power requirement than the original GTX980 but it only requires a single 8-pin power connector, while the 980 needed 2x 6-pins
In regards to the specific performance improvements, the new Pascal architecture is developed on a smaller TSMC 16nm FinFET manufacturing process which could help with the power efficiency as well as the performance. The GTX 1080 also makes use of faster Micron GDDR5X memory, resulting in an impressive 10Gbps memory clock. Meanwhile, the GTX 1070 will use standard GDDR5 memory.
The smaller manufacturing process and improved efficiency have allowed NVIDEA to increase the clock speed of the GTX 1080 to 2144Mhz on air cooling, which is almost twice that of the 1075MHz speeds that the GTX Titan X and GTX 980 Ti use.
The other specific performance details are that NVIDEA claim the GTX 1080 will push around 9 TFLOPS of performance and the GTX 1070 will do 6.5 TFLOPS. In comparison the Titan X pushes 7 TFLOPS.
The 1080 will have display port 1.4 and HDMI 2.0b with HDCP2. The claimed maximum resolution is 7680×4320 @ 60Hz, but there is no word about 4K at higher refresh rates. However, with the DP 1.4 port we should hopefully see some 4K monitors that can handle more than 60HZ this year.
In theory, this all looks fantastic and we hope the claims are as good as NVIDEA say, but without proper reviews I will remain cautiously optimistic about the release.
If you are eager to buy a new card it would probably be wise to wait to see what AMD have to offer with their own new cards based on Polaris architecture.
Reviews of the latest cards should land towards the end of the month.