After weeks of leaks and the past few days, dozens of products shot we not finally have all the info we need about the GeForce RTX 2080 and 2070 following the product announcement this evening
The RTX 2080 Ti will offer users 11GB of 14Gbps GDDR6 VRAM, 4352 CUDA cores, and support for Real-Time Ray Tracing.
The RTX 208 has 8GB of GDDR6 VRAM and 2944 CUDA cored
The RTX moniker signals the card's ray tracing capabilities and also shows off artificial intelligence and programmable shading. Huang began the GeForce announcement by describing ray tracing and how light, shadow and reflection are the "holy grail" of graphics. Nvidia's RTX technology combines rasterization and ray tracing to render images.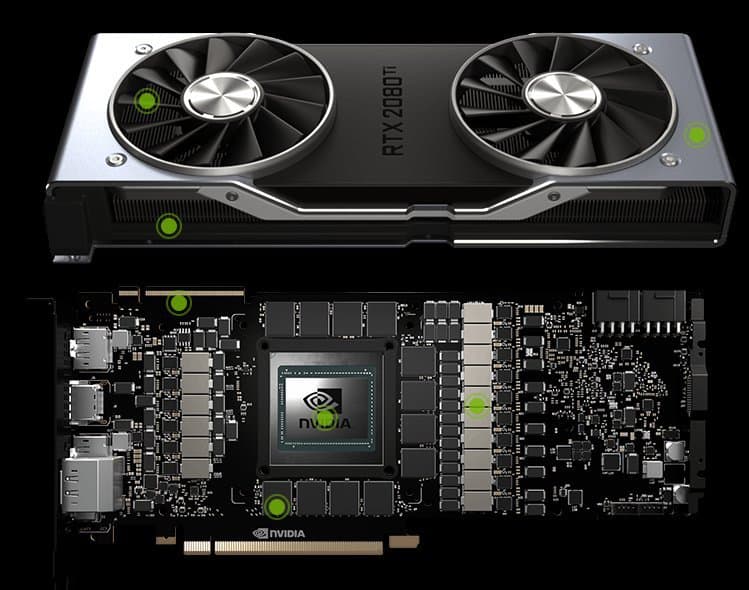 The cards will be compatible with NVLink Bridge, which connects two SLI-compatible cards with 50 times the bandwidth of Nvidia's older SLI technologies. It comes in 3 or 4-slot options.
All the cards bump the power required moderately from the previous generation, with the  Ti Founders Edition using 260W
GeForce RTX 2080 Ti Founders Edition
GeForce RTX 2080 Ti Reference Specs
GeForce RTX 2080 Founders Edition
GeForce RTX 2080 Reference Spec

GeForce RTX 2070 Founders Edition

GeForce RTX 2070 Reference Spec
Price

$1,199
–
$799
–
$599
–
CUDA Cores

4352
4352
2944
2944
2304
2304
Boost Clock

1635MHz (OC)
1545MHz
1800MHz (OC)
1710MHz
1710MHz(OC)
1620MHz
Base Clock

1350MHz
1350MHz
1515MHz
1515MHz
1410MHz
1410MHz
Memory

11GB GDDR6
11GB GDDR6
8GB GDDR6
8GB GDDR6
8GB GDDR6
8GB GDDR6
USB Type-C and VirtualLink

Yes
Yes
Yes
Yes
Yes
Yes
Maximum Resolution

7680×4320
7680×4320
7680×4320
7680×4320
7680×4320
7680×4320
Connectors

DisplayPort, HDMI, USB Type-C
 –
DisplayPort, HDMI, USB Type-C
DisplayPort, HDMI
DisplayPort, HDMI, USB Type-C
–
Graphics Card Power

260W
250W
225W
215W
175W
185W
Nvidia's pricing for the RTX 2080 Ti will be priced at $1,199.00/£1099.00, the RTX 1080 will be priced at $799.00/£749.00, and the RTX 2070 will be priced at $599.00/£569.00.
Nvidia's next-generation graphics cards will ship in September, stating with the RTX 2080 and RTX 2080 Ti
In conjunction with the announcement INNO3D has revealed their liquid cooled Geforce RTX2080 Ti, which will feature the company's custom iCHILL Black cooling solution, which covers the GPU's core, memory and power circuitry to deliver low operating temperatures.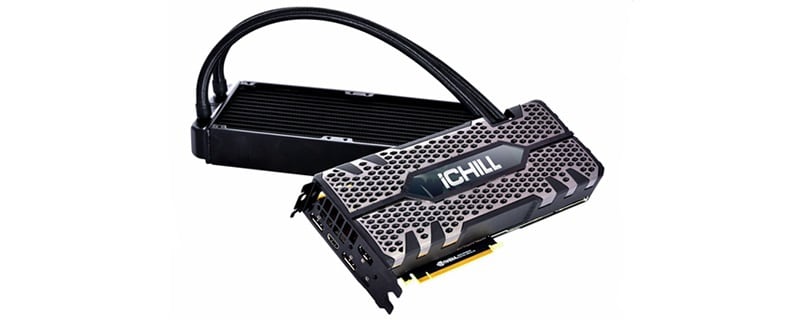 This cooling solution can cool the iCHILL Black down to 62 degrees Celsius under load, thanks to the GPU's use of a large 240mm radiator and the unit's "silent" 120mm fans.