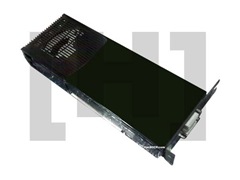 Ok so the details are a bit thin on the ground and the pictures are a little uninspiring as the unit is not branded. However some basic details on the new 9800 GX2 have been leaked.
This new NVIDIA graphics card is essentially a 8800 GPU using the 65nm Fab Process and in SLI on a single card. This will make it similar to the old 7950 GX2 and may support Quad SLI.
The Geforce 9800 GX2 will include:
1GB Frame Buffer
Two PCBs
Two 65nm GPUs
256 Stream Processors.
This information was from [H}enthusiast and they believe it to be trustworthy.