We all know the new NVIDIA GeForce 11 is due to launch at some point in the reasonably near future, even if the date may or may not have been pushed back.
We have reported multiple times about potential release dates, so the new leaks should be taken with a pinch of salt as usual. A YouTuber, Gamer Meld,  allegedly received an email from an NVIDIA board partner, mentions at least four GeForce 11 series graphics cards along with their release dates. The GeForce 11 series graphics cards mentioned in the email include the following:
NVIDIA GeForce GTX 1180 (30th August Release Date)
NVIDIA GeForce GTX 1180+ (30th September Release Date)
NVIDIA GeForce GTX 1170 (30th September Release Date)
NVIDIA GeForce GTX 1160 (30th October Release Date)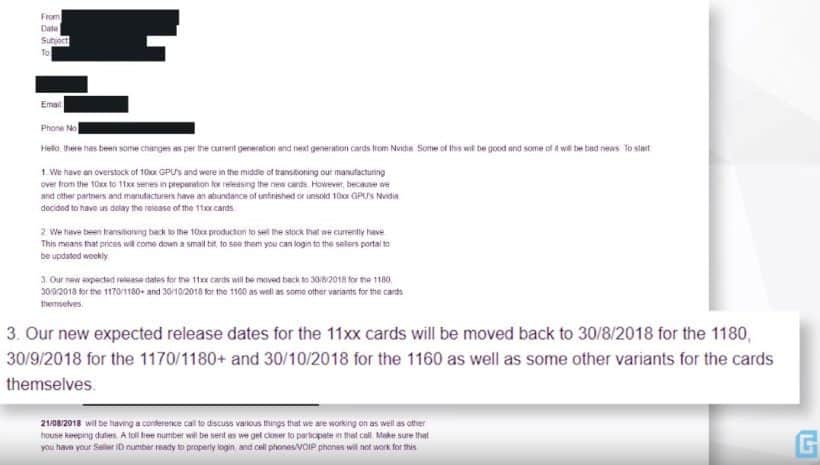 The previous rumour we posted also stated the launch would be in August, Lenovo has also leaked this as being the date of the launch too so we now have three sources claiming the same month. The leaked email also states the reason as to why these graphics cards were held back from launch for so long. Apparently, the rumours concerning the overstock of NVIDIA GPUs on retailers and partners end was a real thing and still is. Various board partners are still in the phase of transitioning from manufacturing on the GeForce 10 series cards to GeForce 11 series. There is still an overstock of the current generation so it is quite likely that the prices of this generation may drop a little.
To make things a little more interesting, there has recently been a screenshot released showing a  3DMark FireStrike result of what appears to be the GTX 1170.
The leaked screenshot indicates the set up as using an EVGA card with a Core i5-8600K processor-based platform with a 396.36 driver. The card reveals itself to have 16GB of GDDR6 memory running over a 256-bit memory interface. It is however listed at a 2.5GHz clock speed, for an effective data-rate that would be 10 Gbps. We have previously posted about some potential specifications of the new cards after a PCB image leaked.
The screenshot shows the GeForce GTX 1170 scoring 29,752 in the Graphics portion of 3DMark's FireStrike benchmark.  This score would put it ahead of the GeForce GTX 1080 Ti.