*Edit* nVidia have now officially launched the 8800 GTS 512 MB at a retail price of about £220
Any day now we will see the arrival of the new and updated GeForce 8800 GTS which will sport an additional cluster of 16 shader processor, bringing up the total to 112. The same amount as the new GeForce 8800 GT. The core and shader clocks along with the memory frequency and bandwidth will be the same as the old version. This updated version thus uses the same G80 core, just less crippled. However there have also been some talk about another GeForce 8800 GTS, but that this next one will be based on the G92 core.
This new version would then sport the more traditional 512/1024 MB memory configurations and a whole 128 shader processors, and all of the advantages of the new core which the G80 lacks. For example the updated features of PureVideo HD, PCIe 2.0 and overall lower power consumption.
A user spotted a small text at NVIDIA's Website actually confirming this card;
5 HD DVD / Blu-ray Video Playback on NVIDIA GeForce 8800 GTS 512MB and 8800 GT is classified as Excellent. HD DVD / Blu-ray Video Playback on NVIDIA GeForce 8800 Ultra, GeForce 8800 GTX and GeForce 8800 GTS 320MB/640MB are classified as Good.
The text was originally found on the GeForce Family page, but has now been removed.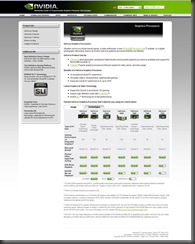 Technorati Tags: GeForce , 8800 Gts , 8800 , NVidia