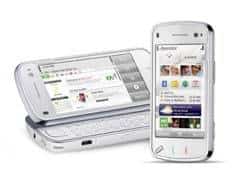 Play.com has put out a release date for the UK on the Nokia N97 smartphone even though Nokia hasn't officially given the Nokia N97 an official UK release date.
According to the online site that sells everything from DVDs to electronics, Nokia's latest top of the range flagship is going to land in the UK on 31 March for a princely sum of £479.99 without contract.
If this new is correct, the Nokia N97 will reach UK store shelves ahead of the proposed launch of the Palm Pre. However according to Pocket-lint, they have been contacted by Nokia which say this date is untrue and no confirmed date has been set for the UK launch of the Nokia N97.
The N97 will be the flagship model from Nokia and offer a full touchscreen that is 3.5-inch, 16 million colour, 640 pixel and 16:9 widescreen, a qwerty keyboard, and 32GB of on-board memory, expandable with a 16GB microSD card.