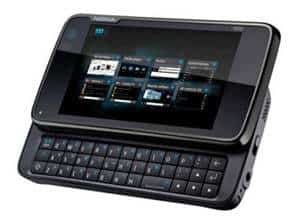 With next weeks Nokia World Expo looming, the Booklet 3G, Nokia's product announcement are going full steam ahead with the new N900. First reports were that it was a phone similar to the N97, using the Linux based Maemo OS. Now its an internet tablet.
It will pack the ARM Cortex-A8 processor the same as the Palm Pre and iPhone 3GS.It'll also pack 1GB of memory for the running of applications such as full Adobe Flash 9.4 for all them online videos you want to watch. OpenGL ES 2.0 graphics will make the phone, i mean tablet powerful in the visual department probably for the games and media content.
Whats gutting is that I got an N97 a month ago and now Nokia who normally announce stuff 10 years in advance so by the time its released its out of date (just like my N97 is now) this is looking at an October release but nothing is definite yet as there's no price or network carrier as yet.
Full Specs : –
ARM Cortex-A8 processor
Maemo Linux-based OS
3.5-inch QVGA touchscreen
QWERTY keyboard
HSDPA
Wi-Fi
32GB of storage (expandable to 48GB with microSD)
5MP camera