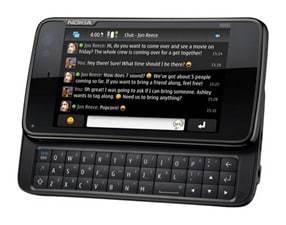 The hotly anticipated N900 phone from Nokia has been unveiled on the Vodafone website under the coming soon bracket making it the first network to be selling what will hopefully be Nokia's comeback phone against the iPhone, when it hits our stores in January.
The sequel to the N97 and what looks to be a more robust, better working phone(gutted because i got the N97…..typical)  had been rumoured to be on Vodafone Ireland recently but now its got the "officialness" now on Voda UK. Similar to the N97 in looks and size this powerhouse of a phone can multitask like no other. using the Maemo 5 OS which is based on Linux this will allow the phone to operate with ease and speed, add to that an ARM Cortex-A8 processor and 1GB RAM you can really see this phone will work wonders.
Usual features like a 3.5" high res(800×480), resitive touchscreen(which although not as good as a capacitive one like the iPhone, but Nokia really has got this one working quite well), 32GB of internal storage, 5MP camera, WiFi, Firefox based browser with Flash 9.4 support and Ovi connectivity for all those apps.
Not too sure of any price ranges as of yet as it's still "coming soon"