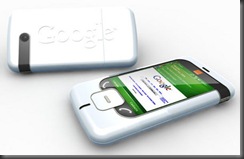 Ok so it does not look like Google are going to directly compete with Apple's iPhone but they are collaborating with 34 Phone related companies to produce an open source operating system for mobiles. The collaboration is called the Open Handset Alliance and they will be developing Android™ a complete mobile phone software stack.
According to the Open Handset Alliance
Android includes everything a manufacturer or operator needs to build a mobile phone. Android will be made available as open source via the Apache v2 license. Android was designed from the ground up to enable the best user experience possible on a mobile phone. It leverages web and Internet content to provide advanced services such as mobile mashups.

An early look at the SDK will be available for download on November 12, 2007.

Developers can take advantage of a comprehensive platform that gives them full access to the device, enabling them to develop innovative, integrated applications and more compelling services. Developers will also appreciate the rich built-in libraries that bring powerful and well-developed functionality that can easily be integrated into applications built for the platform. Open Handset Alliance members also plan to make it easier for platform developers to distribute and commercialize their applications.
Technorati Tags: Android , Google , Open Handset Alliance , Mobile OS , Open Source