Gaming can be frustrating because of lags and shuttering significantly affecting your performance. But gaming can be more fun and exciting for a newbie like you if you invest in a good quality gaming PC for an ultimate gaming experience. Many factors affect your choice, including the type of games you want to play, aesthetics, game settings, and your budget.
A gaming PC guide can help you with all the things you want to know about gaming PC, such as compatible PC components, so that you can choose the right one for you. In this post, you'll learn the best specs and features to look for when shopping for a gaming PC.
Multiple Core Processor
Gaming requires multiple core processors because most games need a multithreaded workload. If you're worried about paying too much for a multiple core processor, you can start with at least two cores. It will provide you a smooth gaming experience as long as you don't use the maximum settings.
Here are the good-to-know things about multiple core processors:
If you like full HD for your gaming, you need a CPU with a processor of at least 2.5Ghz.
The modern processors include i5 and i7 (more powerful).
Your CPU and motherboard should support overclocking (supports higher speed of CPU over its standard speed). Consider the additional cooling system and power supply when choosing a CPU. But if you are not into overclocking, the stock fans would be just fine.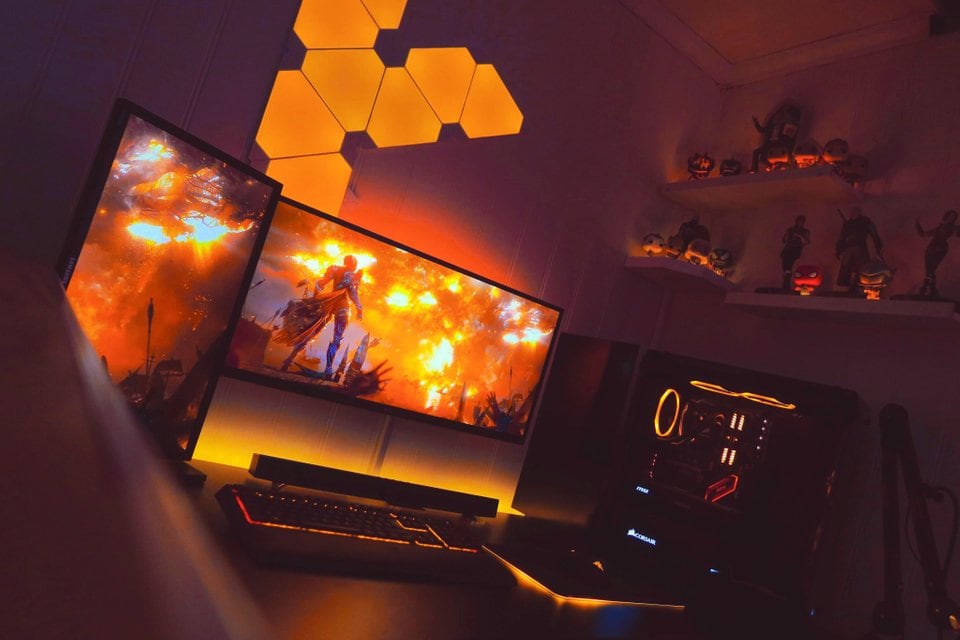 Compatible and Reliable Motherboard
The socket should be compatible between the CPU and the motherboard, including the RAM size, type, speed, capacity, and slots. Choose a CPU and RAM compatible motherboard to ensure that your PC runs fast and smooth, without interrupting your game.
Here are the essential things you need to look for when choosing a motherboard:
Check the number of expansion and USB slots. If you want a wireless connection, find a motherboard with a wireless adapter port or built-in wireless.
Check the correct Scalable Link Interface or SLI (multi-GPU technology) that runs for both NVIDIA and Crossfire for better processing power.
You'll rarely need an extra sound card for gaming.
Enough RAM
As already mentioned, your RAM should match the requirements of your motherboard. Modern motherboards have DDR3 or DDR4, which are different physically. The number of RAM slots determine the amount of memory that you can add, wherein 16GB is already sufficient for average gaming. However, if you run virtual machines and multi-task a lot, you might want to consider 32GB.
Well-Known Brand of Storage Drive
Avoid too-cheap storage drives for your gaming PC because you'll encounter major issues over time. There are different types of storage drives for gaming, which include the following:
Traditional Hard Drive or HDD: You'll need 8MB or 16MB cache memory and 7200RPM for gaming with SATA, PATA, or ATA interface depending on your motherboard. A storage size of 250GB to 500GB for gaming is reasonable.
Solid State Drive or SSD: This storage drive is more expensive than HDD, but it loads faster and has quicker read or write latency times. Choose one with SATA, PATA, or ATA ports.
In-Game Graphics Video Card
Choose an in-game graphics video card that renders graphics based on your desired display settings. It's important to choose a high-quality graphics card to avoid framerate stuttering and motion sickness. Choose a video card with digital visual interface (DVI) output for high-definition output.
Here are the things you need to look for when it comes to choosing a video or graphics card:
The dedicated memory should range from 2GB to 4GB.
It should be able to deliver 30 to 60 frames per second (fps) consistently to avoid framerate lag. However, you'll need 90fps for VR gaming.
For 1080p displays, the minimum is 4GB.
Check the HDMI connection for PC and TV. For 4K gaming (4K means 4000 pixels resolution that is usually used in televisions and cinematography viewing), look for HDMI 2.0.
Dual monitors need multiple DVI, HDMI, or VGA video.
Also, the power supply should support the power needs of the video card.
For gaming in full HD, choose a 600Mhz core clock.
Above 60Hz Monitor
Having the best PC components without a good monitor is useless. For 4K gaming, choose the highest refresh rate within your budget (at least 75Hz) which shows the number of displayed frames per second. Larger monitors may cause scaling issues so pay close attention to the pixel density.
Good Power Supply
For successful gaming, the power supply should be adequate. A good power supply has different DC voltages for various PC components. You'll need a minimum of 500 Watts for a gaming PC to run everything.
Conclusion
Now you know what to look for in a gaming PC, and you're ready to win the games without worrying about shuttering lags and other common issues that a poor PC provides. While your budget plays a vital role in your decision-making, choosing high-quality specs and features is more cost-effective in the long run.