The XPS line of laptops has been a massive success for Dell, I loved last years XPS 15, and during MWC I noticed that more press was using the XPS 13 over Apple.
The flagship laptop from Dell, the XPS 15, has seen a beefy upgrade this year, and now includes options for the latest 6-core 8th Generation Intel Core processors and up to NVIDIA GeForce GTX 1050Ti graphics.
Dell claims that this will be the smallest 15.6-inch performance laptop, and also one of the lightest. The innovative InfinityEdgedisplay enables a 15.6-inch display in a 14-size and starting at just 4 pounds.
The official specification sheet states options for :
8th Generation Intel® Core™ i5-8300H Processor (8M Cache, up to 4.0 GHz)
8th Generation Intel® Core™ i7-8750H Processor (9M Cache, up to 4.1 GHz)
8th Generation Intel® Core™ i9
While the Core i9 details are not specified this appears to be a 2.9GHz base clock, with 4.3GHz all core boost and 4.8GHz single boost.
While the laptop can be specced with the NVIDIA GeForce® GTX 1050Ti with 4GB GDDR5, you will also have cheaper options including Intel® UHD Graphics 630 and NVIDIA GeForce® GTX 1050 with 4GB GDDR5.
Battery life has been improved to an incredible 21 ½ hours, the longest on any 15-inch laptop.
Storage options include 128GB SSD + 1TB HDD, 256GB PCIe NMVe SSD, 1TB solid state hybrid drive, 512GB PCIe NMVe SSD or 1TB PCIe NMVe SSD. There are memory options form 8GB-32GB Dual Channel DDR4 at 2666MHz (2 x SoDIMMs)
Available from May with a starting price of $999, I would guess UK pricing will be from £999.
XPS 15 2-in-1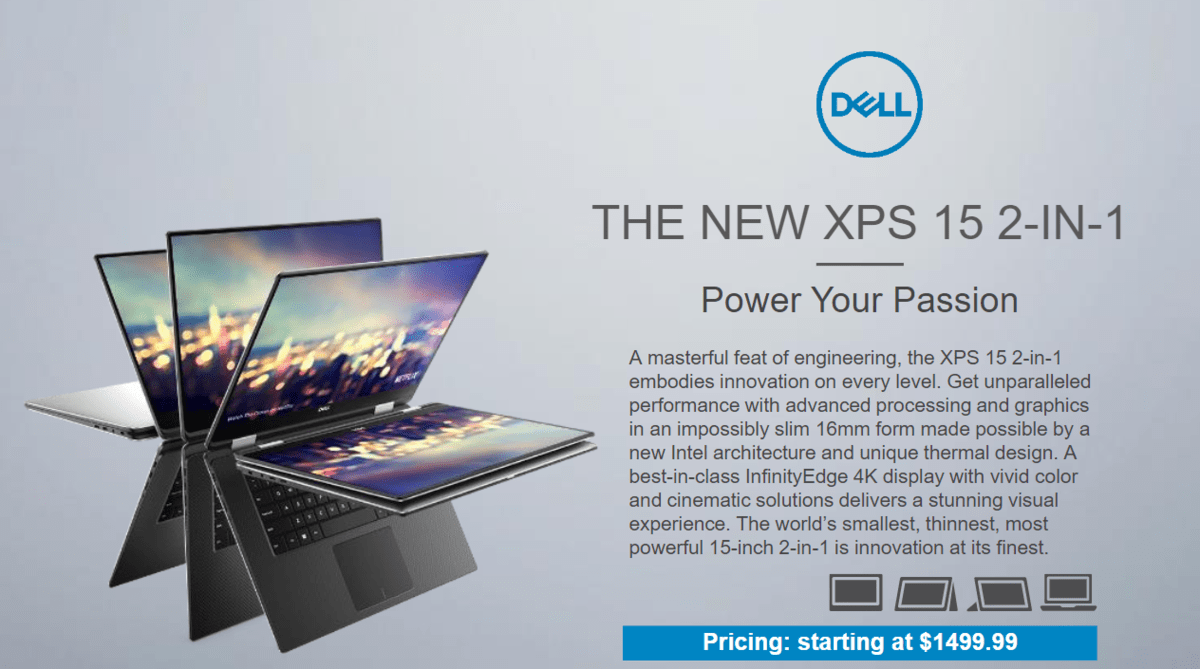 The product announcement also included the latest XPS 15 2-in-1, but by all accounts, this is not new news and reviews of this are already online, if you have missed out then the following may be interesting.
The new XPS 15 2-in-1 claims to be the most powerful 2-in-1 ever. With an 8th Gen Intel Core™mobile processor with Radeon* RX Vega M graphics and 4GB of dedicated High Bandwidth Memory for graphics, it's Intel's first processor ever packaged for the next level of processing and discrete graphics performance.
The new laptop uses an InfinityEdge 4K display which has 100% Adobe RGB colour spectrum.
Dell has made many battery enhancements, and the new XPS 15 laptops can achieve up to 15 hours of usage.
The XPS 15 2-in-1 is the smallest, thinnest 2-in-1 of its size at only 16mm thin. This is achieved partly by a new innovative keyboard which levitates the keys via magnets reducing the overall profile size while maintaining the feel and travel of your normal laptop keyboard.