Do you fancy the latest iPhone XS, iPhone XS Max, and iPhone XR? Even if you desire to buy any one of the latest iPhone models; the steep price tag will most likely deter you from buying the same. Waiting for the price to come down or looking for sales and discounts seems to be the only viable option. However, there is another way as well through which you can win iPhone XR, iPhone XS/XS Max for almost free. This marvelous way comes in the form of a virtual mystery box website – DrakeMall.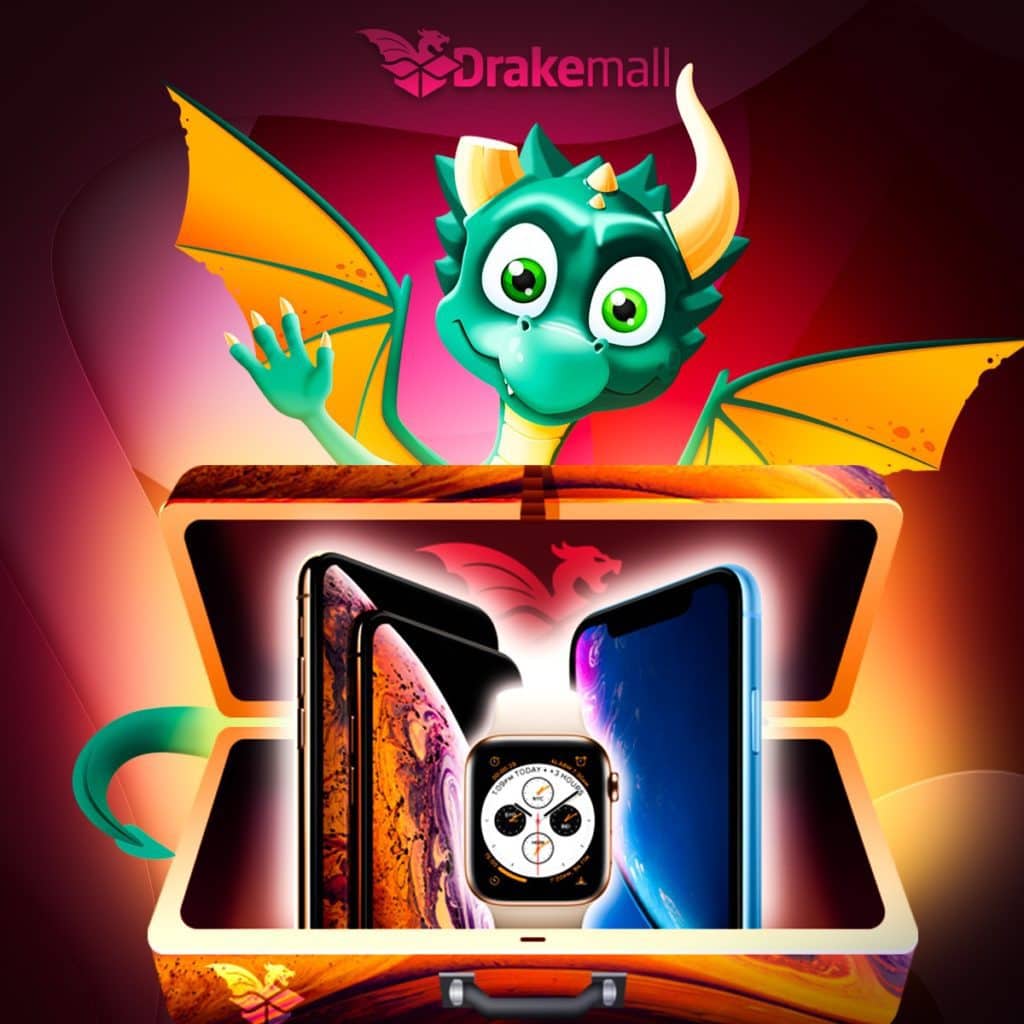 The functionality of DrakeMall rests on the idea of spin and win roulettes with mystery boxes. In simple terms, you spin the wheel and on whatever product the head of the spinner stops, that is yours to claim. If you are considering DrakeMall to be a scam, then you can go ahead and check various users' opinion, reviews, and unboxing videos available on the Internet that guarantees that the website is completely safe to use. Moreover, DrakeMall operates under the Curacao E-Gaming License that further guarantees the legitimacy of the website. So, without wasting much of your valuable time, let us tell you how you can win a new iPad, iPhone XR or the latest iPhone XS/XS Max on DrakeMall.
Step 1: Create an account and add funds to your DrakeMall wallet
Your first step on the website is to register yourself by creating an account. You can use your Google+/Gmail, Facebook or Twitter accounts as well to log in to the website. Thereafter, please add funds to your DrakeMall wallet. You can use a debit card or credit card (Visa or MasterCard) for the purpose. PayPal and Drake Mall gift cards are also accepted. Now, you're ready for mystery box challenge provided by Drake Mall!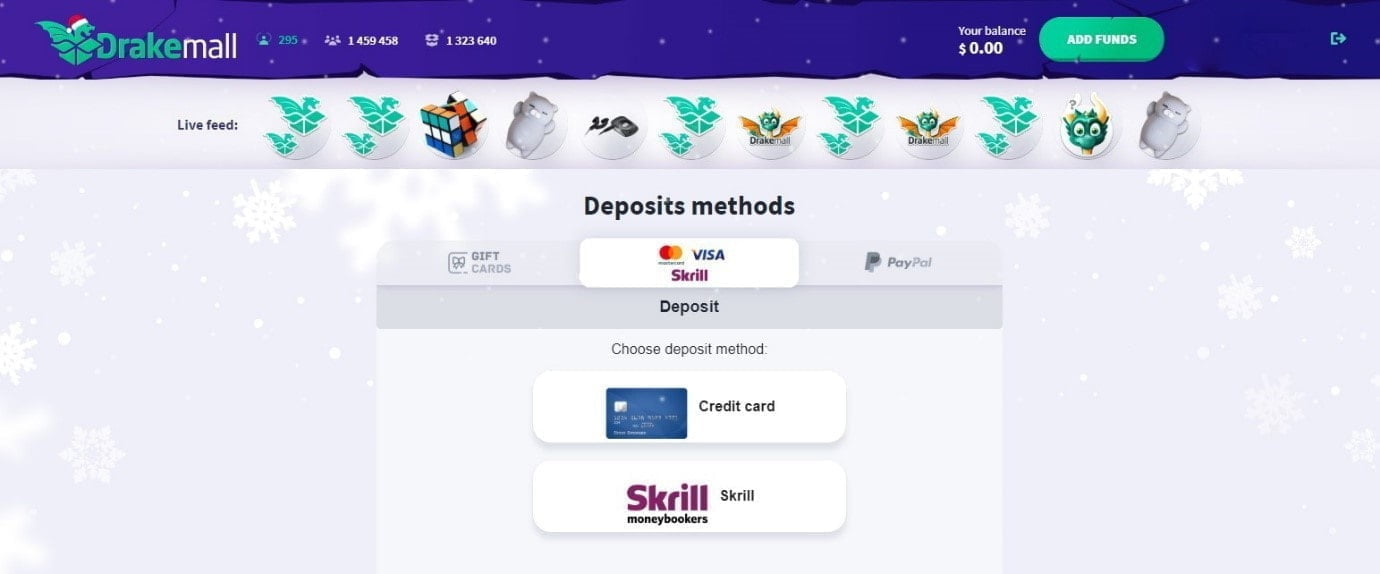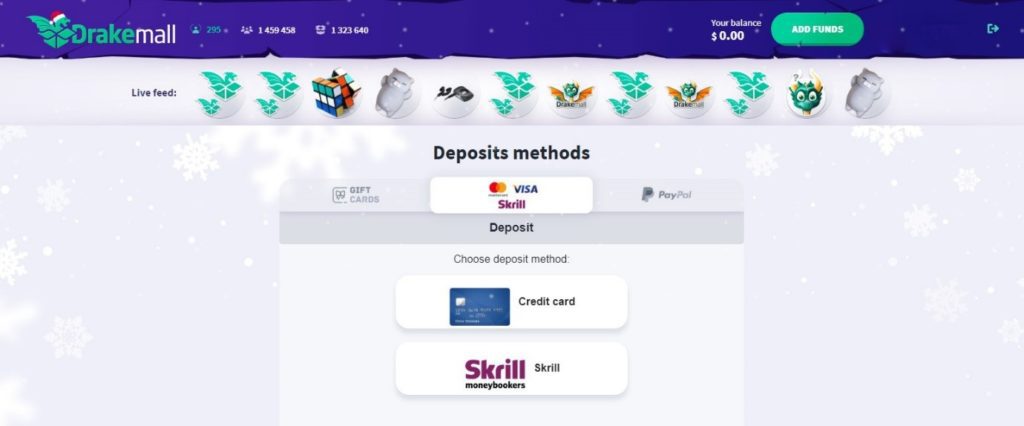 Step 2: Buy the virtual case containing the latest iPhone XR, iPhone XS or iPhone XS Max
Following are some of the major Drake cases or virtual mystery boxes presented on DrakeMall.
Smart Case ($99.99) – Apple iPhone XS, Apple Watch 4, Samsung Galaxy S9, Microsoft Surface Pro, Hoverboard, WiFi Projector, Apple Air Pods, Smart Home Hub, Digital Radio etc.
Apple Case ($39.99) – Apple iPhone XS/XS Max/X, Apple Macbook Pro 13, Apple iMac, Apple iPhone XR, Apple Watch Series 4, Apple TV 4K, Apple Air Pods etc.
Android Case ($14.99) – Samsung Galaxy S9, Samsung Galaxy S3 Tab, Bluetooth Speakers, Amazon Fire TV Stick, Waterproof Speakers, WiFi Drone etc.
Gamer Case ($35.99) – HTC Vive, Xbox One X, Oculus Rift, PS 4 Pro, Nintendo Switch, Play Station VR, Razer Gaming Mouse etc.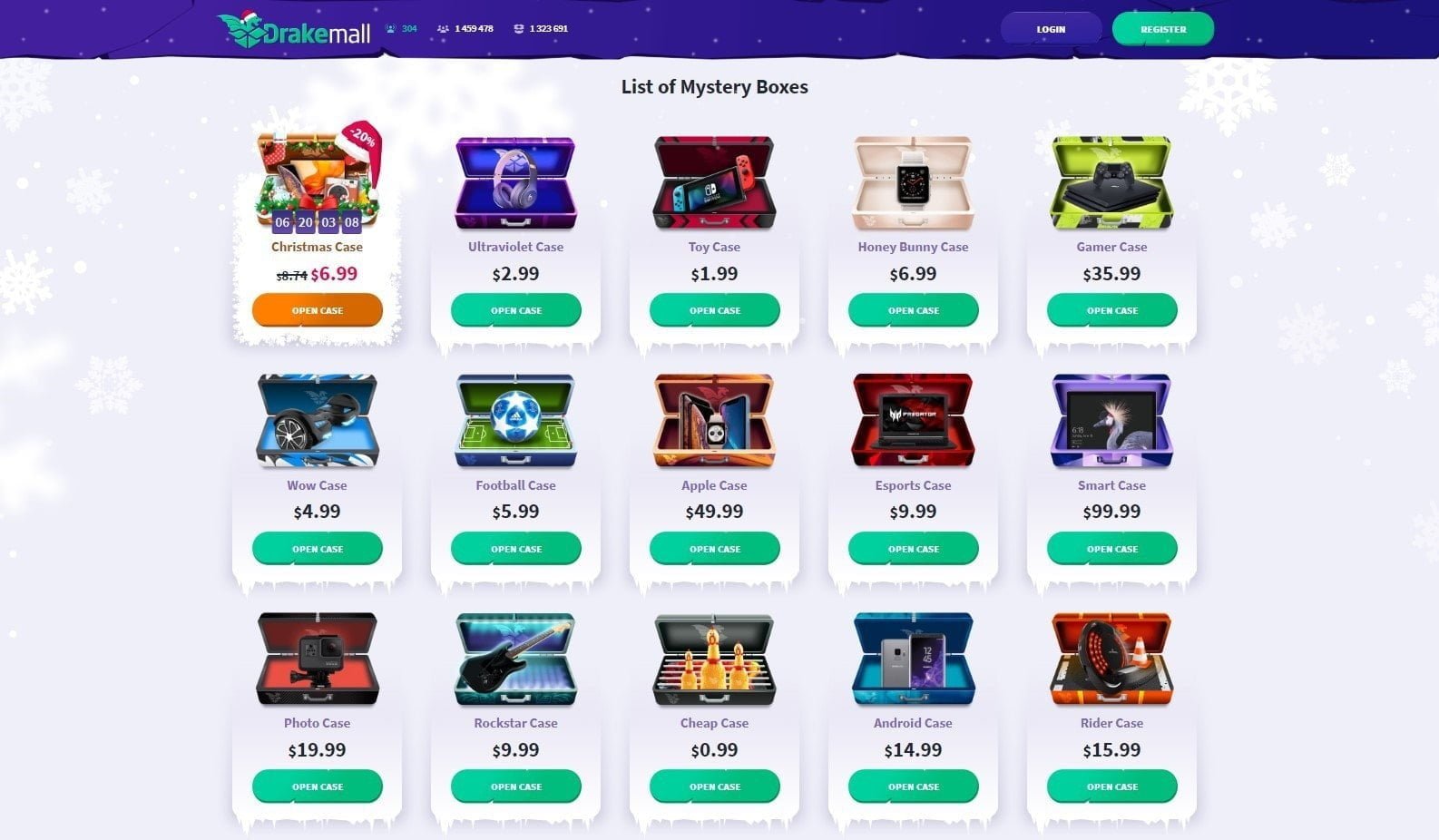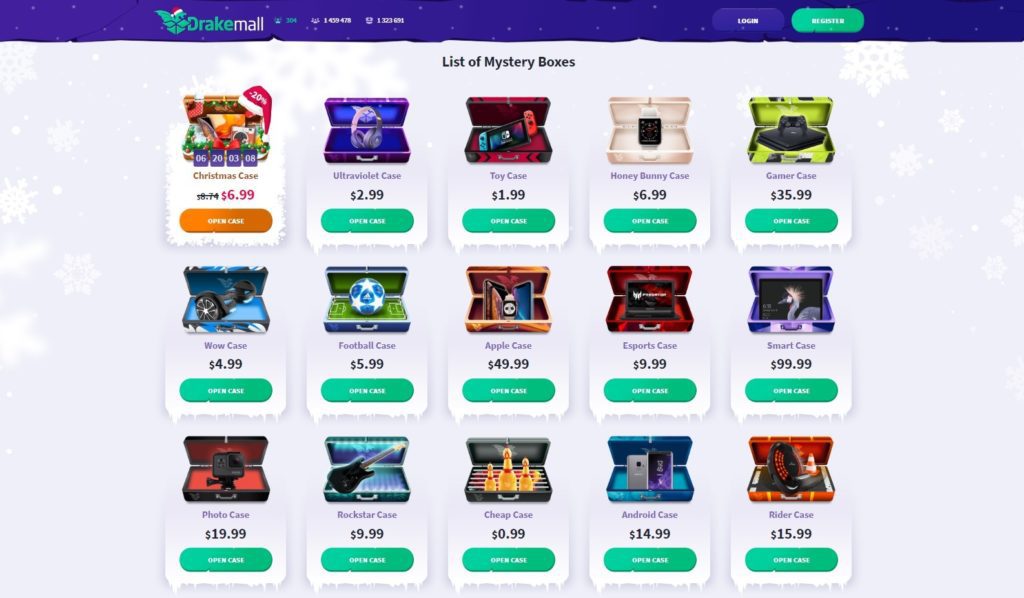 As you can see you require buying the Smart Case or the Apple Case in order to win iPhone XR or iPhone XS/XS Max. Please note that in this festive season DrakeMall is also providing a Christmas Case with a price tag of just $6.99 and this mystery box also contains the latest iPhone for almost free (with this price tag).
In order to buy the case simply tap on 'Open Case' and now you can check the products present in the case as well as perform a few test spins to make yourself familiar with the working and mystery box concept. Thereafter, once you are ready, tap on 'Open Case' again and you will get a finite number of actual spins to test your luck.
Step 3: Spin and Win
Start spinning and if you are lucky enough you can win iPhone XR or iPhone XS for maximum $35.99. There are lots of other good products like Apple MacBook Pro 13 and Apple Watch 4 in the Apple Case. Winning is a guarantee on DrakeMall so, no matter what happens, you are never going to leave the website empty-handed. Try your luck with those mysterious boxes!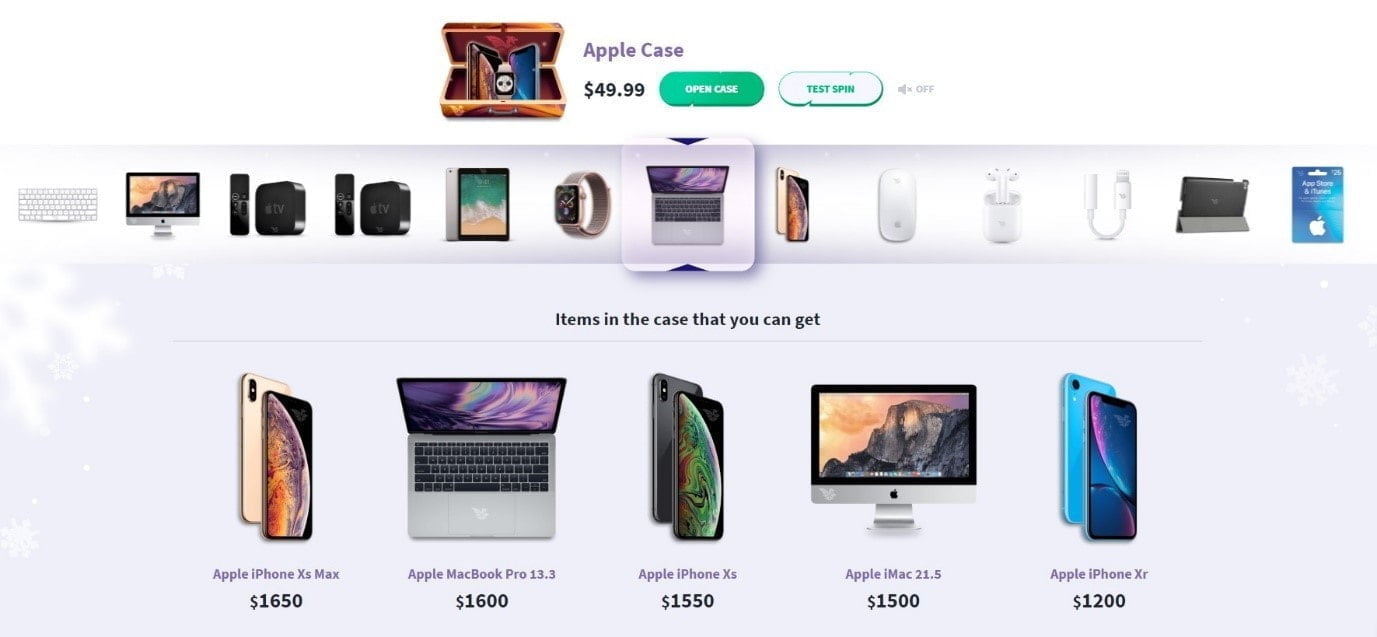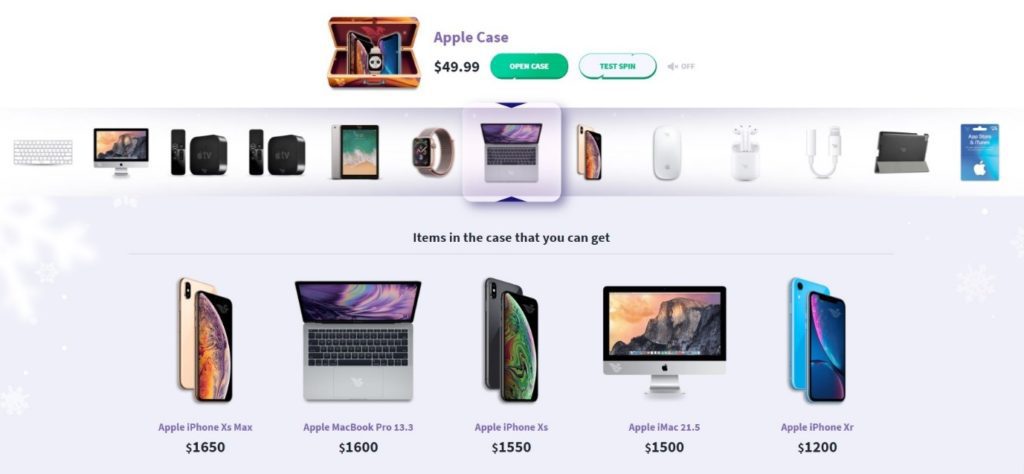 Step 4: Place Request for Delivery
The product that you will win will go under the 'Products' section in your profile. From here you can place a request for delivery. Simply enter and confirm your delivery address. DrakeMall does international deliveries as well. Therefore, it doesn't matter where you live, if you have a post office in your location, DrakeMall will deliver your product. Please note that you require bearing the customs duties as well as a delivery charge ranging from 5 to 20 credits depending upon the product. Generally, you require waiting for a maximum 21 days to receive your product.
"I don't want the product that I won. What to do?"
DrakeMall is completely dedicated to its customers. Good customer service is the hallmark of Drake Mall. If you don't want the product that you have won, you can either exchange it with a product of the same value or sell it in order to earn DrakeMall credits. These credits are a perfect way to pay for delivery or to open a new mystery box or Drake cases.
The Bottom Line – "is DrakeMall true?"
DrakeMall is a safe, legitimate and a perfect way to realize your dreams. Don't forget to check DrakeMall Facebook community with free giveaways for the latest updates and happenings on DrakeMall. Go ahead and fulfill your dreams – open some surprise boxes!