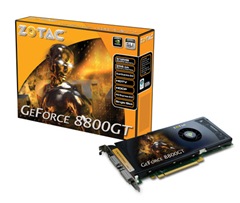 Well this morning I started work to find an email off Pixmania saying my Zotac GeForce 8800 GT had been dispatched. Rather annoyingly they said my new 24" BenQ G2400W was waiting to be delivered. It was in stock when I ordered it so I am a bit annoyed!
Anyway UPS have just delivered the 8800GT so I will be happy for a little while. I can't say I have really heard much of Zotac before, however DriverHeaven.Net gave it a good review and it is an overclocked 8800GT running at 660MHz Core,1800 MHz Memory Clock and 1600 MHz Shader.
In comparison the Nvidia reference cards run at 600, 1800MHz and 1500MHz. So there should be a bit of a performance tweak over the reference cards.
In fact Bit Tech just reviews the BFGTech GeForce 8800 GT OC 512MB which uses 625MHz core and 1,566MHz Shader. So a tad slower than the Zotec. There opinion was
We still continue to be impressed by Nvidia's GeForce 8800 GT and in the grand scheme of things, and BFGTech's overclocked card continues that trend.
On the whole, BFGTech's GeForce 8800 GT OC card delivers and it earns a recommendation from us.
Hopefully I won't be disappointed!!!