I am not the most experienced of Linux users, deep down a am a Windows fanboy, not really out of choice though, more due to the fact I was brought up on them, I have always used them, and the fact that Windows is still the ONLY operating system worth gaming on.
However I have an old laptop that is generally useless with anything other than browsing the Internet or doing some basic work. It was never going to be a gaming machine so I figured Linux offers everything I need + it should perform better than XP. I originally downloaded Ubuntu 7.10 (Gutsy Gibbon) and for the past 9+ months it has been a decent little machine. Ubuntu offered all the functionality I needed. Granted I didn't actually need much functionality apart from Firefox, but it did that well. 99% of the time it was used by my Girlfriend to play solitaire or browse the Internet and look at shoes. She doesn't really share my passion of all things geeky. The other 1% of the time was when I had to leave the office for a meeting or go on holiday.
Anyway as always I get itchy feet and wanted a change, I was going to upgrade to 8.xx (Hardy Heron) but I decided that was too boring and wanted to try something different. Now the thing with Linux is it is not like deciding should I do with Vista Home Premium? Ultimate? 32bit? 64bit? It can be a little more complex than that. Linux comes in many many many flavours (distributions) where basically there is a Linux operating system consisting of the Linux kernal + a bunch of software and libraries. Because Linux is free and open source people have a lot more freedom to do what they want with it, unlike MS where you can't really do anything with it, certainly not repackage it with your own software than rebrand it!
According to Wikipedia there are currently over 300 distributions of Linux making the choices a little more difficult than which flavour of Vista you want. However the main distributions most people chose include:
Archlinux, a distribution based on the KISS principle with a rolling release system
CentOS, a distribution derived from the same sources used by Red Hat, maintained by a dedicated volunteer community of developers with both 100% Red Hat – compatible versions and an upgraded version that is not always 100% upstream compatible
Debian, a non-commercial distribution maintained by a volunteer developer community with a strong commitment to free software principles
Fedora which is a community distribution sponsored by Red Hat
Gentoo, a distribution targeted at power users, known for its FreeBSD Ports-like automated system for compiling applications from source code
Knoppix, a Live CD distribution that runs completely from removable media and without installation to a hard disk
Mandriva, a Red Hat derivative popular in France and Brazil, today maintained by the French company of the same name
MontaVista Software, a commercial embedded Linux distribution found in everything from consumer electronics, networking, mobile, to health, mil/aero, retail and industrial automation devices.
openSUSE, originally derived from Slackware, sponsored by the company Novell
PCLinuxOS which is the number 2 distribution on DistroWatch as of April 29, 2008. PCLinuxOS is derived from Mandriva
Red Hat Enterprise Linux, which is a derivative of Fedora maintained and commercially supported by Red Hat
Slackware, one of the first Linux distributions, founded in 1993, and since then actively maintained by Patrick J. Volkerding
Ubuntu, a newly popular desktop distribution maintained by Canonical that is derived from Debian.
Source: Wikipedia
Ok so why is Linux Mint not on the list? Well it is not nearly as popular as some of the other and it is mostly based on Ubuntu (which is based on Debian). The main noticeable differences are the desktop design and user interface.  The latest Mint version (Elyssa) is based on the latest version of Ubuntu (8.04 Hardy Heron).
From DistroWatch
Linux Mint is an Ubuntu-based distribution whose goal is to provide a more complete out-of-the-box experience by including browser plugins, media codecs, support for DVD playback, Java and other components. It also adds a custom desktop and menus, several unique configuration tools, and a web-based package installation interface. Linux Mint is compatible with Ubuntu software repositories.
It has also had some excellent reviews with the main one that sold Mint to me was from Distro-Review.
So time to talk about mint.
I downloaded it via a Torrent, and as always with Linux distributions it was very fast, I think I downloaded it in 10 minutes. It runs from live CD so you can have a play around and decide if you like it before you even have to install it. I have a few minor issues with the live CD as I was using it on my laptop it did not have the advanced graphical features enabled, in fact it did not seem to like the graphics (FX Go 5200) at all and even the text on screen was difficult tor read. Still, no problem it was still easy enough to set up the install which was done in a matter of minutes.
Once the installation was complete I ran into my 2nd problem. The graphics still were playing up, and when trying to automatically install the NVidia drivers from the Synaptic package manager it failed. This led to about an hours worth of frustration trying to download the files from Nvidia and install it all through the terminal which is not an easy task if you are not used to Linux. However then I decided to look around on the net for some installation help it turns out that Mint comes with Envy a package to simplify the installation of the graphics drivers. It literally took 1 minute to install everything properly.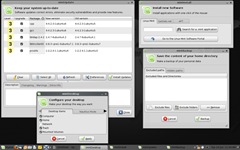 After this little hiccup everything ran smoothly, and Linux Mint is a pleasure to use. It comes with most of the software you probably need pre-installed  including OpenOffice, Firefox, multimedia codecs, drivers etc.
It comes with Mint Update which make updating extremely simple and also Mint Install which links to an online portal of software, you then click install, open the file and everything is done for you.
The rest of the unique mint tools consist of:
MintInstall: A program to download software from Internet catalogs that distributes mint-files. A mint-file does not contain the software, but it contains all the information and sources to download that software. mintInstall allows users to add software through the use of .mint files.
MintUpdate: Update-software designed specifically for Linux Mint. MintUpdate assigns updates a safety-level (from 1 to 5), based on the stability and necessity of the update. Updates can be set to notify users (as is normal), be listed but not notify, or be hidden by default. In addition to including updates specifically for the Mint distribution, the development team tests all package-wide updates. This system is designed to prevent inexperienced users from installing updates that are unnecessary or require a certain level of knowledge to configure properly. MintUpdate is currently in beta 1.5 and will be included in the next Mint release. If mintInstall is used to install a program from the default repositories, that program is able to receive updates via mintUpdate.
MintDesktop: A desktop configuration tool for easy configuration of the Gnome desktop. Also acts as a background process to do various tasks upon login. Also network browsing is made easier (through fusesmb). MintDesktop has received a major overhaul in Mint 4.0.
MintConfig: (Obsolete from Daryna.) A customizable control center. It gathers all the tools from "Preferences" and "Administration" and organizes them into categories. The purpose of mintConfig was to give users a control center since Gnome didn't have one. In Daryna only the Gnome Control Center will be present.
MintAssistant: A customization wizard that appears during first log-in for users, asking a few questions to customize Mint based on the user's level of knowledge and comfort with various Linux components. It currently asks if the user wants to enable or disable fortune-cookies in the terminal, if the root account should be enabled or disabled, and if Mint should use MintDisk or fstab to mount NTFS-partitions.
MintUpload: An FTP client that uploads files to a server by right-clicking on the icons and selecting upload. The user will then be given a link he or she can give to other people for quick and easy sharing.
MintSpace: The larger sibling of MintUpload. Provides an additional 1GB of storage space and files stay on the server for 7 days (rather than 2 days).
MintMenu: A python-coded menu that allows for fully customizable text, icons, and colors. It shares the same hotlinks to software as the Gnome main menu.
MintWifi: drivers for quite a few wlan gadgets and mintWifi.py . Located in /usr/lib/linuxmint/mintWifi
Source: Wikipedia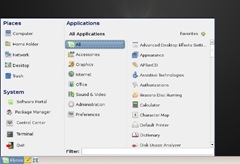 Browsing around Mint is very Windows esque and should be a breeze for even the most novice of users.
Even with the graphical features set to high I found the system ran without any issues.
Overall I am very impressed with Linux Mint. It may not be the version for hardcore Linux geeks but I find it more user friendly that Ubuntu. If, like me, you have an old machine that is a little sluggish then this really is a great OS for it.
For the latest versions and further information go to the main Linux Mint Website.