ModulR has announced that casings for the iPad 2 are now available. The casing system is designed to protect the iPad and allow for added functionality by allowing users to add various accessories to the casing system. This allows users to use the iPad in a variety of other ways that would be impossible with a standard protective casing.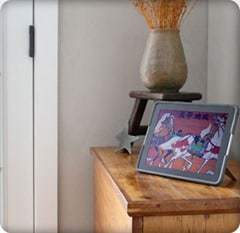 The iPad 2 case costs $39.99 and includes a very useful hand strap. It is currently available in three colours: tech white, classic black and crystal clear. The case itself has a very good protection and has a very elegant design.
There are currently six accessories that are available for the case:
Hand Strap $14.99: This allows to firmly hold your favourite iDevice without straining your had. It also removes the risk of the iPad slipping or being knocked off your hand.
Shoulder Strap Pro ($19.99): this accessory offers added mobility, you can carry it like a normal bag. It also includes a hand strap and a free stylus holder.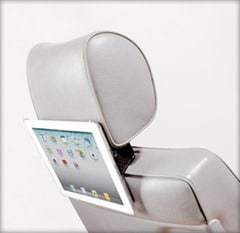 Car Headrest Strap ($19.99): As the name suggests, this one allows you to attach your magical tablet to your car seat, allowing you to provide instant entertainment for your passengers.
Slim Wall Mount ($19.99): The Wall Mount allows users to attach their iPad to the wall. You can choose between adhesive or screw mounting options.
Quick Stand ($14.99): This helpful accessory helps you to mount the iPad in two different angles for viewing and typing.
Utility Mount ($14.99): If you want to attach your iPad to virtually any surface, then this is the accessory you need.
In addition, ModulR also plans introducing two new accessories very soon.
iPad 2 Case Custom Insert ($9.99 – free shipping included): allows you to add custom logos, images or other material in the back of the cover.
iPad 2 Cover Stand ($29.99): This cover stand uses the iPad 2's own magnetic design to auto wake and close securely. Unlike other cover stands, it will minimize the hassle of manually adjusting the stand.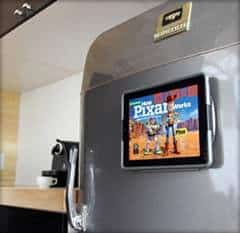 If you are not in the mood to actually go and select these accessories individually then you can opt for a bundle. ModulR offers two bundles: The anywhere pack (case + shoulder strap + car head strap + slim wall mount) and the Startup Pack (case + slim mount).
Ideally, if you need a mobile solution then the best solution would be the iPad case and the shoulder strap pro. Since this includes the hand strap, you will not exactly have a problem carrying it or using it while moving. In addition to this, it would be best to get a quick stand or a cover stand (when it becomes available). Other than that, I doubt any of the other accessories will be of much use for mobility. If you want to create a home entertainment or security system using the iPad 2, then it would be best to choose either the Slim Wall Mount or the Utility Mount. The Car Headrest Strap would be great if you need to provide your passengers with regular entertainment during long car rides (e.g: driving your kids around).