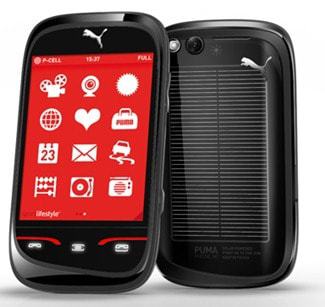 Yes that's right German sports giant Puma have teamed up with Sagem Wireless to create this nifty little blower aimed maybe towards the fitter/healthier members of the public. It's been doing the rumour rounds on the internet recently and has drawn quite a bit of attention but now its official and looks pretty good.
Small, Palm Pre(minus slider) looking the phone is obviously designed better for your pocket than most new smartphones but what might draw a few people to it is on the reverse, that's right a solar panel, allowing the phone to be charged anywhere and everywhere(providing there's light obviously 😉 ) Apparently an hours charge in "medium sunlight" will give you 2 hours of music playback or allow you to send 30 messages. A full charge gives 5 hours talktime, 350 hours standby and 24 hours of music playback. So what's inside and what's it do?
The 2.8" screen maybe small in comparison to most phones but Puma has assured that the UI is "thumbable" allowing one handed use of the phone. Its features include a 3.2MP camera, Bluetooth, Pedometer, GPS(for tracking and Geo-Tagging Snaps) 3D Accelerometer, stopwatch, cycle tracker all helpful when in the great outdoors or down the gym.
Also it has a built in FM radio and can pull live sports feed from Puma World and mCommerce. There's an app which dials straight into the Puma online shop allowing the user to order new gear or customize things like trainers then order them. One feature in particular that good be seen as fun and also annoying if you frequent public transport is the music player. When playing a software vinyl player appears on screen allowing the usuer to Virtual Scratch the tunes.
Due in April, early reports indicate it should be available for around the £250 mark.