Garmin may dominate the market for sports tracking devices, and Wahoo offering excellent alternatives for tracking ride, for people that are less concerned about sporting achievements and just would like to explore the UK or EU on their bike, then the Mio Cyclo 210 could make a great option.
The Mio Cyclo 210 is a bit more like the Garmin Explore editions rather than a performance tracking device offering simplicity yet a whole host of sophisticated features such as turn-by-turn navigation with audio commands, an 8.9cm touchscreen and full European mapping.
This rugged device has an IPX5 rugged waterproof casing and a large 3.5-inch touchscreen making it a good choice for commuters or touring riders braving all weathers.
[button link="https://amzn.to/2MfcyR1″] Buy now from Amazon[/button]
The bike sat nav offers the best way to get from point A to B. However, you can also choose to follow your own preferred route. Naturally, you get turn-by-turn navigation with a clear sound alert. Additionally, choose to use the unique and fun Surprise Me feature and the Cyclo 210 will calculate three different bicycle routes based upon your entered time or distance.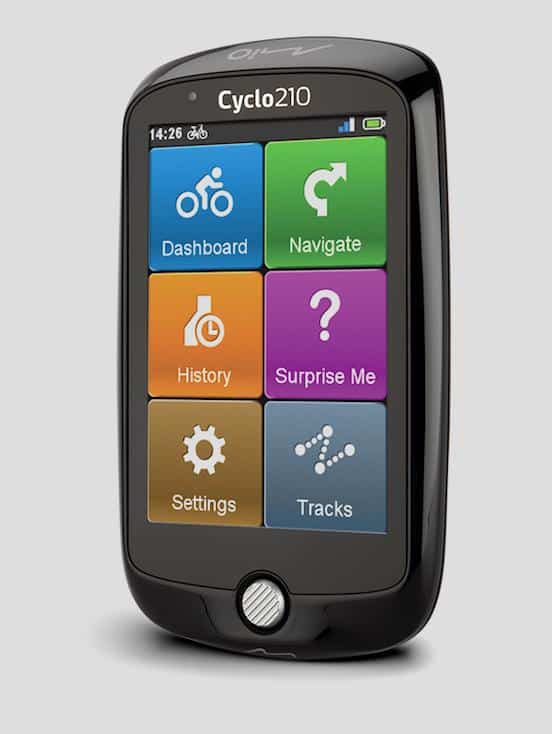 I quite like the idea of the bike navigation and the surprise me features, I am terribly lazy when it comes to creating bike routes, and when I resort to using Google it takes me down some very questionable routes.
Battery life is a moderate 10 hours, good for the majority of users but perhaps a little low if you on an all-day tour.
The Mio Cyclo 210 measures time, speed, distance, height, calorie consumption and more. With this being more navigation focussed it doesn't offer Strava integration and certainly not live segments.
From a little research, it appears the quarter turn mounts are compatible with Garmin, so you have plenty of 3rd party options to pick if you need.
It is available from Amazon with an RRP of £189.99.
[button link="https://amzn.to/2MfcyR1″] Buy now from Amazon[/button]