In a bid to outdo some of their competitors that are releasing 4k PC monitors, LG have launched the beautiful LG 34UC97, 34-inch 21:9 curved IPS QHD display. Taking cues from the increasingly popular curved TVs the LG monitor has a gently curve in it. Combined with its elongated 21:9 aspect ration the monitor really wraps around you making it a trulely lust worthy item to own which will no doubt be a "grail" item for both professional users and gamers alike.
Due to the wider aspect ratio of 21:9 you get a massive 3440×1440 resolution with 2.4x pixels than a 16:9 incher with Full HD.
For people with deep enough pockets 3 of the monitors can be put together to really surround you.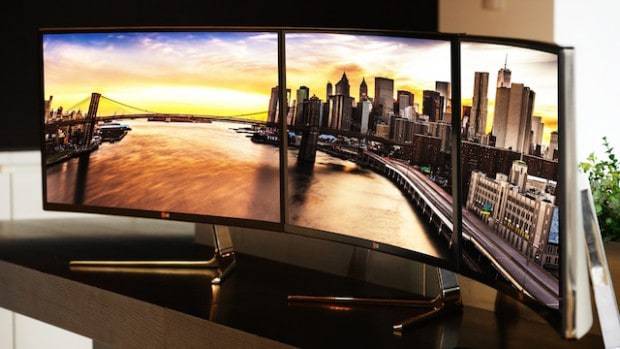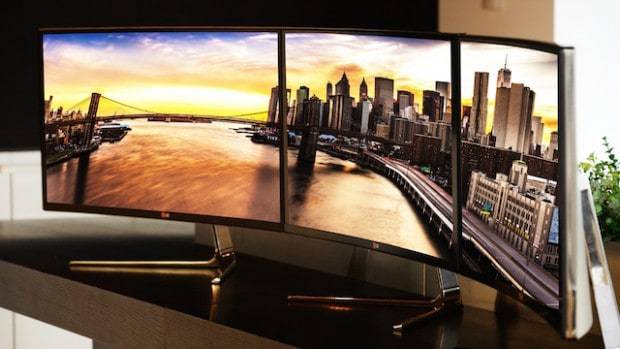 The monitor also boasts a colour palette sRGB over 99% using the IPS display making it an ideal monitor to photographers and designers needing the best colour accuracy.
The monitor comes with two Thunderbolt 2 ports, two HDMI, two USB 3.0 ports, and a Displayport allowing you to keep clutter on your desk down to a minimum.
As part of the launch on the new monitor LG have launched a new viral video campaign to help promote it showing a how a production company uses the monitors to produce a video. It really shows off how amazing the monitors are.
You can find out more information about the monitor at LG.com and it is available to buy now from Amazon.co.uk or Overclockers from £990