LG has been a bit late to the game launching their flagship compared to other brands. Their last phone, the LG V30 ThinQ AI, received quite a bit of criticism for not really offering anything different than the LG V30 itself.
LG has already confirmed that the ThinQ branding is coming to the G line of phones and it will debut today in New York and Seoul on May 3rd.
Apparently, the G7 ThinQ's 'Empathic AI' — that's how LG describes its artificial intelligence, which it says is capable of human-like thinking to a certain extent — is better than its predecessors.
Thanks to Roland Quandt and other we have a good picture of what you will get already.
The LG G7 ThinQ, which carries the model number LM-G710 comes with a 6.1-inch IPS display but doesn't have slightly rounded back edges like on the V30. The panel will instead sit perfectly flat in the case and offers a resolution of 3120×1440 pixels, so the format is at 19.5: 9. It is well known that the panel will include a notch, and this is almost expected from phones in 2018.
The screen will be able to handle very high brightness with 1000nits possible, and the DCI P3 standard is fully supported at the same time they have managed to save 30% energy compared to previous models. We have already seen the excellent HDR video results of the Sony XZ2 so it will be interesting to see how the G7 competes.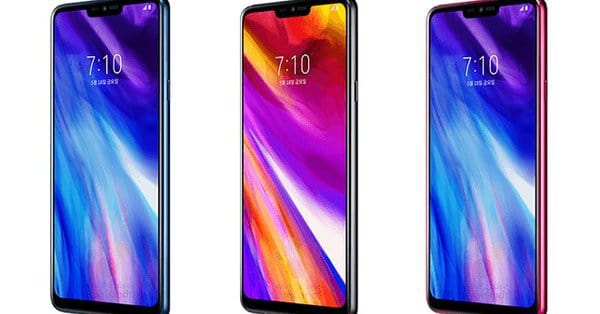 As you would expect the Qualcomm Snapdragon 845 Octa-core-SoC is powering the phone, I have already covered this chip extensively, and it is fantastic. It is combined with 4 or 6 GB of RAM, and there is 64GB of storage. With companies like Huawei offering 128GB as standard on their flagships, more would have been nice. MicroSD isn't confirmed yet, but this would at least make up for the low memory.
As standard with phones this year, there are 2 cameras on the back, one is confirmed to be 16.3 megapixels and can confirm that LG is using an F / 1.6 aperture here. The second sensor is also a 16-megapixel camera with F / 1.6 aperture, although it is still unclear whether a wide-angle lens is offered here again.
Disappointingly the phone will only have a 3000mAh battery, and you get Qualcomm QuickCharge 4.0. Bring back the days of the LG V20s removable battery! Some older sources indicated the battery might be 3300mAh, which would be a bit more appealing.
The phone will also have a dedicated Google Assistant button below the volume keys.
One other feature LG are keen to point out is the new speakers, it will have the loudest audio playback of any phone on the market. LG has issued a press release stating that the G7's speakers will "feature exceptional audio quality" through its new "Boombox" technology that "increases the base sound level by more than 6dB with twice the amount of bass. It will also feature a Quad DAC, which has always been a popular feature on some LG phones.
While the specification isn't overly exciting, the launch price is tipped to be £599/680Euro which puts it well under the launch price of the Sony and Samsung flagships this year.
I had a lot of love for my LG V20 so I hope this year they can produce some great phones.
We should have confirmation of all the specification and pricing later today.