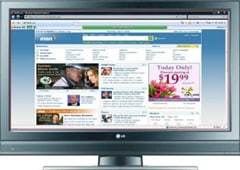 With the rife competition in the HDTV market it is good to see companies like LG trying to come up with innovative ideas to help improve market share.
Shortly after announcing a blu-ray player with the ability to play YouTube videos and receive on demand content they have announced a new TV that will have access to the Internet.
Specifically this will be used to access to services such as NetFlix, but could include any other number of on-demand sites and hopefully, YouTube and free access to browse and stream as you see fit.
There's no release date confirmed for the new screens, dubbed 'Broadband HDTVs', but they are expected to command a premium of around £200 over conventional models.