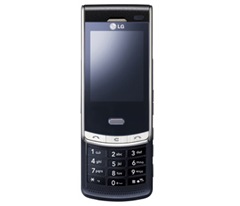 As previously mentioned today saw the announcement of the new Black Series LG Phone – the LG Secret. I made the rather crap guess the name would be LG Black. Never mind.
The phone is quite high end being just 11.8mm thick while managing to pack in a 5mp 120fps QVGA video camera and DivX-certified recording and playback.
The phone itself is made from High-grade carbon fibre and tempered glass materials. Swish.
The screen is fully touch screen and has an accelerometer motion sensor, and auto luminance control.
The phone comes packaged with Mp3 player, fm radio, a reader for Word, Excel and Powerpoint and is loaded with a specialised Google Package that with a dedicated interface for Google services such as GMail, Google Maps, YouTube and Blogger.
Overall this sounds like one feature packed device especially considering its physical proportions of 102.8 x 50.8 x 11.8mm. The few images we have seen also make it sound like a very good looking phone, and the combination of carbon fibre and tempered glass probably means it will look even better in person.
Edit: LG Secret Video added from You Tube
More information from the press release after the jump.
LG Secret (LG-KF750) – Spec Sheet
Exterior Profile
Slimmest five mega pixel camera on 11.8 mm profile
High-grade carbon fiber and tempered glass materials
2.4" TFT LCD touch screen, QVGA, 240×320 pixels
Neon Touch Navigation: provides illustrious response to the touch
Dimension: 102.8 x 50.8 x 11.8mm
Video Recording And Playback
High-speed 120 fps video recording at QVGA / 30 fps VGA to capture and playback unforgettable moments in slow motion
ISO 800 for best picture quality even low light
DivX® video recording & playback function for clear DVD-like quality on 2.4" LCD screen
Photo editing features include morphing (facial editing) and after-photo editing (SmartLightTM)
Auto focus, Macro, 16 digital zoom
Morphing : change the facial expressions of friends, or just for distorting a photo for artistic effect
7 different scene modes – Auto, Portrait, Landscape, Night, Beach, Sports, and Party
7 different filter effects (vivid/negative/sepia/blue/emboss/sketch/monochrome)
5 different White Balance – Auto, Daylight, Cloudy, Illuminate or Indoors
3 different playback speeds – FF/2FF/slow
TV-out function
Music video creating through integrated movie maker software
Memory : 100 MB internal, external SD slot up to 4GB
Touch Media
Activate the touch screen through the Touch Media, a portal for all multimedia features – music, photo, motion game(M-Toy), document, and FM Radio
Music
This advanced MP3 player allows you to sort your music by artist, album, genre, or your customized playlist
Multi codec support (MP3, AAC, AAC+, AAC++, WMA,RA)
6 preset Equalizer (Rock, Jazz, POP, Normal, Menu, SMS/MMS)
Music multi-tasking with camera, Games, menu, SMS/MMS
Document
Open and view office documents on your LG Secret:
TXT, PDF, DOC, PPT, XLS
FM Radio
Connect the headset to turn on the radio
Motion Game(M-Toy)
Swing, shift, tilt KF750 to play games enabled by the motion sensor
M-Toy games: Dart, Magic Ball, Maze, Homerun Derby, Hammer, and Fishing
Google Package
Google Search, Gmail, Google Map, Youtube, Blogger
From search and email to blog, G-map and YouTube upload, enjoy Google offerings via mobile platform through KF750's Internet Service.
Auto Luminance Control
Auto Luminance Control automatically adjusts the brightness on the display depending on the luminosity level of surrounding environment – eye-friendly function
Not only does this function make it easier for your eyes, ALC saves battery life of a standard battery up to 20% on average use.
Auto Rotating Display
Enabled by the motion sensor, users can shift images, videos, or documents on the screen for viewing in any position by simply flipping the phone to a desired angle
Bluetooth Auto-sync
Bluetooth 2.0 with auto-sync – connect with your PC wirelessly to transfer and synchronize data as well as photos
File transfer: MP3, Photo, Video, Ringtones
Object push: Phonebook, My name card, Schedule (V-card, V-calender)
Voice Clarity
Increases sound clarity for crystal clear conversations on each call