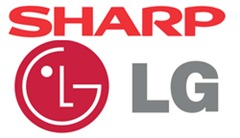 Price fixing seems to be quite common in big business and the latest 2 companies to be caught out are LG, Sharp Chunghwa Picture Tubes.
The three companies will face a total fine of $585m. LG has the largest fine of $400m for conspiring to fix prices from September 2001 to June 2006. Sharp have a fine of $120m for inflating prices of panels sold to Dell, Motorola and Apple between 2001-2006.
Sharp have responded by imposing a 10 to 30 percent pay cut for 3 months to reassure shareholders.
Personally 10 to 30 percent seems a bit lenient considering it probably netted the company hundreds of millions in extra revenue.