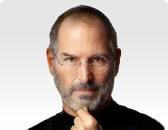 Steve Jobs  today informed the Apple Board of Directors that he was resigning as Chief
Executive Officer effective at once and recommended to the board that Tim Cook,
Apple's Chief Operating Office be named as has successor. According to an Apple
press release issued at the same time as Mr. Jobs letter, the Apple board not
only named Tim Cook as Apple CEO, but also named Steve Jobs as the new chairman
of the board of Apple.
In the  letter, addressed not only to the Board of Directors but the "Apple Community",
Mr Jobs stated:
I have always said if there ever came a daywhen I could no longer meet my duties and expectations as Apple's CEO, I would be the first to let you know.Unfortunately, that day has come.
I hereby resign as CEO
of Apple. I would like to serve, if the Board sees fit, as Chairman of the
Board, director and Apple employee.
No reason was given for Jobs stepping down.  While there has been recurring rumors of
declining health since his transplant surgery in 2009, it is equally possible
that he has simply elected to leave the day to day operation to others. Not
only was Mr. Jobs a co-founder of Apple,  but he also has led Apple from the shambles
the iconic co-founder found upon his return in 1997 to create perhaps the most dominant
tech company in the world today. Further, it seems clear that he will still be
playing an active role as Chairman.
Tim Cook has been with Apple for the last thirteen
years and stepped in to run day to day operations during Mr. Job's prior leave
of absence when dealing with his illness. With his elevation to CEO, Mr. Cook
also will be joining the Apple board.