Krator is a relatively new player to the market and wants to shake things up with striking designs, decent quality at a reasonable price.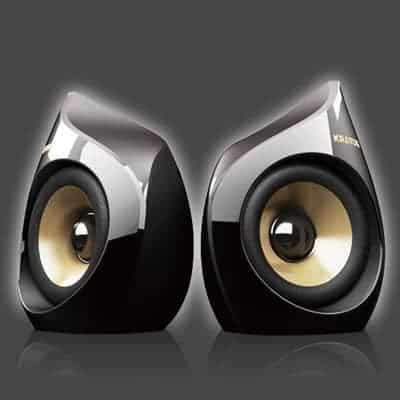 The Krator Neso 4 is a 2.0 channel speaker on the lower end of the Krator speakers and the features include:
USB speakers deliver brilliant sound performance
5 watts R.M.S. output
Easy-to-Go. Tiny size with wonderful sound
Detachable Satellite Design
An 3.5mm Stereo phone jack for audio output
Adjustable Volume and Bass control provide maximum convenience
Elegant design best fits for your living room and personal space
Specifications:
Power output: 5 Watts RMS output
Frequency Response: 80~18Khz
Connector: 3.5mm Stereo Audio Cable
Controller: Volume, Bass controller
Headphones Jack: Stereo 3.5mm Audio Jack
Speaker Unit Driver: 2.75 inch paper dome unit driver
Size of Satellite: W95 x H132 x D75 mm
Power Requirement: USB Power
When we opened the box we were quite pleased with the looks of the Neso 4s which are based around a rain drop, though they are a tad light and plasticy. the rest of the contents were pretty basic, but lets face it the only thing you need are the speakers!
The speakers use USB for power and then a 3.5mm port for the sound, which is good or bad depending on how you look at it, you are restricted to a device with USB, but at the same time you didn't have to faff around with another plug. Alternatively some speakers use USB for everything, which is convenient for a laptop but not so convenient if you want to use you iPod or whatever.
The sound quality of the sound quality of the speakers was a little tinny and certainly lacking base, they also didn't go very loud. However for £15 you will always have questionable sound quality and for the price these speakers are a great upgrade for a laptop.
For occasional use, and mainly for laptops these are great speakers, however if you want some speakers for your desktop and have a bit more money we would suggest something with a little more oomph and possibly 2.1 for example the  Neso 4 Avante Garde 26Watt 2.1ch Speakers.
Thanks to Bitmore for providing the speakers to review.