The King of Fighters XII (KOF XII) is the latest instalment of The King of Fighters series and is currently available on the PS3 and Xbox 360.
King of Fighters XII is very Street Fighter esque though it uses a 3 on 3 team system with each fight consisting of up to five rounds. Though it is possible to play in a versus mode where you can either have 3 on 3 or 1 on 1 against another player or against a CPU opponent.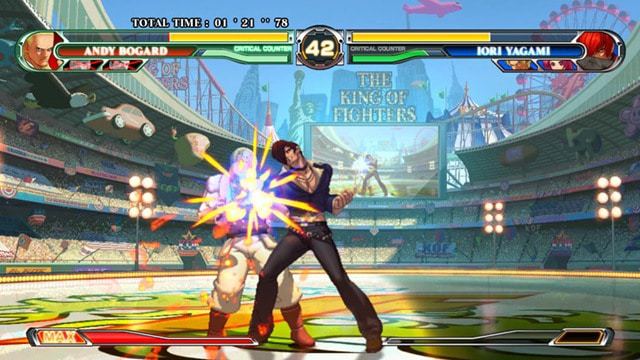 One of the main things I noticed about the game were issues with the graphics. All the backgrounds in each fight are colourful and well drawn but the actual characters are blocky and have very poor detail, it was certainly not something I would expect on the PS3 unless it was a PSN game.
KOF XII has a slimmed down roster than previous versions of KOF and this has come under quite a bit of criticism from fans.
In terms of the game play it does play well and the animations of the characters are fluid and if you are not used to fighting games you can chose a simple mode which allows you to pull of character moves without pressing a ridiculous combination of buttons, or if you are more used to fighting games you can play it normally.
The game also has some issues with lag that comes with online multiplayer though I suspect this will eventually be fixed with a patch.
This game without a doubt is focussed on the more seasoned fighting game player and I am sure they will play it, however for other gamers I am unsure how appealing it is. One of the main problems I have with it is the £39.99 asking price. For a game with questionable graphics and problematic online multiplayer this is extortionate.
If the game was £10-£15 and available to download on the PSN I would say go for it, it could provide quite a lot of fun while playing against your friends on a LAN, but as a £40 game I just don't think it is worth it.