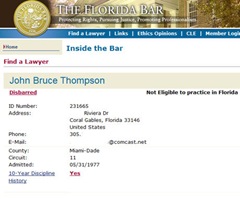 Jack Thompson has been a thorn in the side of video game companies with his fight against computer violence. While he has caused quite a bit of grief for game companies he has become a bit of a laughing stock in the community.
Thompson was recommended for permanent disbarment this year on charges of abusing the legal system and 27 different counts of misconduct. As well as getting permanently disbarred, Thompson was also forced to pay $43,675.35 in legal fees to the court.
According to Game Politics it would appear that the disbarment has finally been made official.
I am sure this wont stop him from being so vocal about his beliefs though
The Florida Bar documents for disciplinary action can be read here